Most of us want to lose weight and we try a number of things for the same. We do exercise, alter our diet, etc. But, have you ever thought that you can lose weight only by eating Ghar ka khana and not doing anything else. You must be thinking that we must be joking but we are not. Today we are here to tell you about "A Woman Lost 35 Kilos By Eating Only Ghar ka khana". Want to know more about her? Who is she? And how did she do so? Come and Find out with us.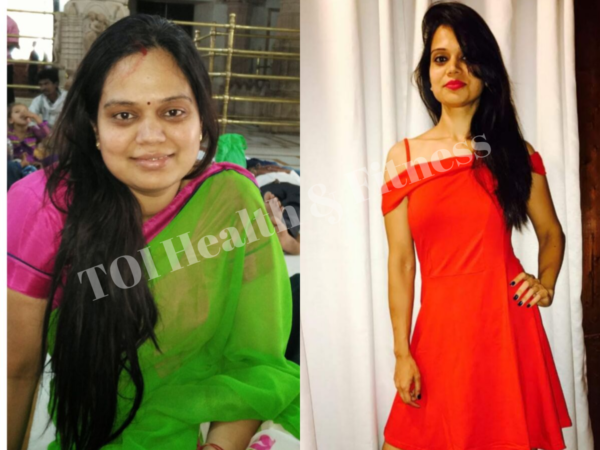 Source : Times Of India 
#1 About the Woman
Akanksha Sharma is the name of the woman who lost 35 kilos by eating only Ghar ka khana. She is 33- years old. And was very tired with the way of her living. She was overweight and this not only affected her confidence level but also her post-pregnancy life. The worst thing was she was not able to take good care of her newly born baby. As she was facing chronic back pain. Her weight loss journey is an inspiration for many of us. You may also like DIY To Get Rid Of The Dark Neck
#2 How and When She Decided to Lose Weight
Before knowing about when she decided to lose weight. Let us discuss some more details about her. As we already told you her age is 33 years, She is a homemaker and fitness consultant by profession. Before she loses some weight she was 90 kg and she had lost 35 kg weight in 24 months. Well, that obviously a remarkable achievement. She shared her life 's turning point where she decided that he has to lose weight.
She Said " I was suffering from Polycystic Ovary Syndrome (PCOS) before I was pregnant. But, the thing that broke my heart the most was, I was not able to hold my baby in my arms even though he weighs just 3 kilos".
She further added " He was crying all night long and I was not able to comfort my baby because of the chronic back pain I was facing. That was the moment when the realization hit me. And I thought for the sake of my baby I have to get fit. I wanted to hold my baby and play with him. And that's when I decided it's high time that I should shed some extra kilos. You may also like Home Made Face Pack to Remove Tanning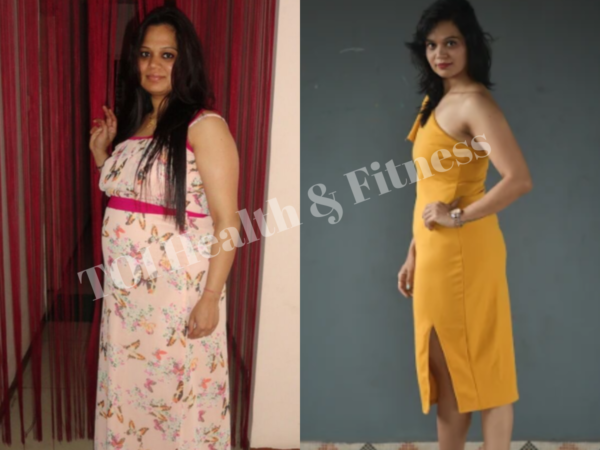 Source : Times Of India 
#3 Diet She Followed
As we already shared with you that she lose weight only by eating Ghar ka khana. Now let's check our her diet. Let's find out what she used to eat and how it helped her to lose weight.
1- Breakfast
In breakfast, she takes Whey protein, eat nuts and drinks a cup of black coffee
2- Lunch
For mid-day mean, she has 100 grams of cottage cheese, 50 grams rice along with leafy vegetables and 50 grams of rajma. You may also like What Your Birth Month Say About Your Love Life- Part 1
3- Dinner
She shared that she doesn't eat fixed dinner and keep on switching it. But, she makes sure that she eats something light. Some of the things she considers for her dinner are 1 bowl dal, vegetable pulao, paneer bhurji and a small portion of rice cooked in ghee.
4- Pre- Workout Meal
If you want to lose weight workout is a must. Before a workout, she consumes only one cup of black coffee.
5- Post- Workout Meal
After working out she eats two slices of bread with 75-100 grams paneer and 1 cheese slice. He also took some multivitamins and fish oil capsules. You may also like Places Women Secretly Wished To Be Touched
6- Workout
She workout 6 days a week and do strength training. Per week she focuses on only two body parts.
7- Low-Calorie Food
She said she doesn't like to eat fancy stuff. But, when she feels hungry, she always eats green leafy vegetables and salad. To make it tasty she add different spices to salad or vegetables. These food items provides her nurtients she needs for the day.
#4 Fitness Secret
While sharing the fitness secret she said " She has realized that there's no need to follow a fat diet or detox diet to lose weight. One can easily lose kilos while they are eating "Ghar ka Khana". All you need to make sure is that you keep a count on your calorie intake.
When she was asked how she kept herself motivated during this time she said- She loved working out and challenging herself and that is what kept her motivated. And she also said that she has realized the key to weight loss is consistancy. Your progress will be inevitable, as long as you'll be consistent.
Source : Times Of India 
So this was all about " A Woman Lost 35 Kilos By Eating Only Ghar ka khana". Akanksha teaches us that if we really want something we'll definitely find the way to achieve it. And she is definitely a motivation for a lot of us. You if you are also trying to lose weight keep trying and don't give up. Also, share your thoughts with us about "A Woman Lost 35 Kilos By Eating Only Ghar ka khana" in the comment section.
Also Try
Tips To Make Restaurant Style Cold Coffee At Home
Deepika Padukone Fiercely Shuts Down Salman Khan's Comments On Depression
Foods That Make Your Skin Oily And Dull
5 Things That Happen When You Don't Shower
Why Your Man Will Cheat On You According To His Zodiac Sign- Part 2
5 Places Guys Secretly Wished To Be Touched