For the longest time, the respectful Aloe Vera has been the main ingredient to the skin care space for many reasons. Aloe Vera is known as a magical plant, as it not only suit all skin types but is also a best skin hydrator and moisturizer it's the original natural sunburn soother, keeps your skin looking minty fresh all day, every day. You can use Aloe Vera as a treatment for irritated follicles on scalps, a makeup remover, and also as a primer before applying foundation. Currently, it's good for eyes, lips, skin, etc. Aloe Vera is the ultimate DIY face mask for irritated, discolored, or sun-damaged skin, reduces inflammation of skin and soothes cuts, burns. It has anti-bacterial and anti-fungal properties. Aloe Vera also acts on blemishes, acne, and freckles. Regular use of Aloe Vera on skin gives glowing and radiant skin free of all the skin problems. It hydrates and softens the skin, as it is rich in vitamins and minerals. Aloe Vera is mainly used for skin care but it can be also used in hair oils to help with hair growth. To have variety of skin and hair, healthy benefits you can easily grow Aloe Vera in your home, it needs maintenance but it grows through all climates. So, 5 Aloe Vera Face Packs Homemade for Healthy Glowing Skin.
#1. 5 Aloe Vera Face Packs Homemade for Healthy Glowing Skin:
1. Aloe Vera and Rose Water:
To tone your skin and enhance cell regeneration add rose water with Aloe Vera and make face mask.  All you need is rose water and Aloe Vera. Take 1 tbsp of Aloe Vera extract with 1 tbsp of rose water and mix it well. Rose water is used to make the paste a bit smooth. Apply the mixture on your face and wash it after 15-20 minutes. And there you are with a soft skin in a few minutes.
2. Aloe Vera and Honey face pack:
When your skin is feeling too dry or dehydrated for your comfort, try Aloe Vera and honey face mask. To create a smooth paste, start by mixing 2 tbsp of Aloe Vera, 1 tbsp of honey and also add one mashed over-ripe banana. Now, apply the paste on your face and keep it for 25-30 minutes and then wash it. Just remember and try to make this as your pre party skincare ritual, as the result of this face mask is moisturized skin with no dry spots.

3. Aloe Vera and 2 tbsp Lemon:
This face pack is not much known by people. But yes, lemon helps break down dead cells, increases cell turnover and effectively removes tan and brightens skin as it has vitamin C and natural cleansing and bleaching properties. Now to make this face pack mix 2 tbsp aloe vera gel with 5-6 drops of lemon juice; apply this on your face and rinse it off after 20-25 minutes with lukewarm water.
4. Aloe Vera Serum for Glowing Skin:
For this you need to take 2 tbsp of Aloe Vera gel and mix 1 tbsp of rice water into it. Apply this on your face before sleeping. Do some gentle massage for 5 mins and wash your face in the morning. Do it for 3-4 times in a week.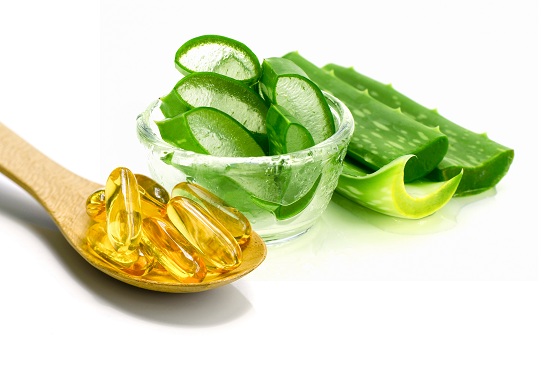 5. Aloe Vera and Vitamin E face pack:
Vitamin E with Aloe Vera will help you nourish your skin and make it soft and smooth. Vitamin E is the key ingredient for your skin care as it has effects to its anti-inflammatory, anti-aging and skin conditioning properties. So for Aloe Vera and vitamin E face pack you need to mix 2 tbsp of Aloe Vera gel with one vitamin E capsule with it. Smash this rich mixture on your face and let the mixture dry off. Wash your face with cold water. You will absolutely love the results is fresh, radiant skin in a few minutes.
Also try:
7 DIY Beauty Recipes for Glowing Skin
6 Home Remedies To Reverse Premature Greying of Hair
HOW TO DETOX YOUR BODY NATURALLY?