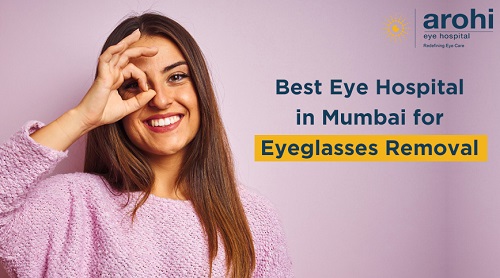 Your eyeglasses can be a pain in your neck, if not literally. We know that a lot of you are compelled to wear eyeglasses or contact lenses and are disgusted with it. And if you are a newbie, the case is even worse. But time has changed. Nowadays, you don't have to carry a single thing that you don't want to. Technology has seen a lot of developments. And today the top-end eye hospitals are paving the path to getting rid of eyeglasses for one and all by providing the best eye-care treatment and services. One such name is Arohi Eye Hospital. It's the leading place for getting comprehensive eye care in Mumbai for more than the past 11 years. Here in this blog, we are going to share how Arohi Eye Hospital, a renowned boutique eye hospital in Mumbai can help you get rid of your eyeglasses with advanced technology and procedure. Just keep reading!
Best Eye Care Service for the Removal of Eyeglasses:
At Arohi Eye Hospital, we have become a part of the major breakthrough in the realm of eye care technology with Lasik Eye Treatment. This is really a groundbreaking procedure that can really transform the lives of the users of eyeglasses and contact lenses in the world. Using the latest Alcon Wavelight Contoura Lasik machine, we correct the eyesight and help our patients get rid of the hassles of wearing eyeglasses and contact lenses for life.
The term Lasik stands for Laser In-situ Keratomileusis. It is the most advanced and popular procedure for vision correction and removal of eyeglasses. In a few minutes, this technique can eliminate the lifelong compulsion of using eyeglasses or contact lenses. Lasik is one of the most in-demand processes among all kinds of Laser Eye Treatments. Although at Arohi Eye Hospital, we offer all kinds of Laser Eye Treatments, Lasik is the one we recommend to most of our patients due to its painless, fast and easy-to-get results.
Dr Shradha Goel, a highly skilled and trained eye surgeon is the chief Surgeon at Arohi Eye Hospital. She has over decades of experience in Phaco-Lasik surgeries and has performed numerous Lasik procedures in the past. She, along with our other knowledgeable eye-experts, medical and related staff members, help us to ensure a superior, and faster restoration of the eyesight for our patients.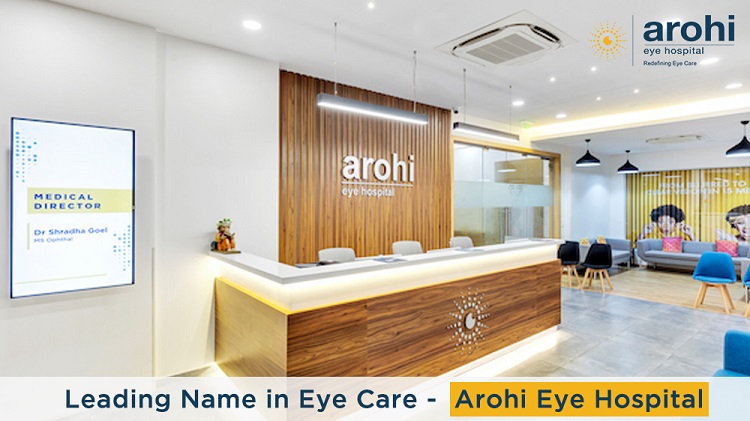 How Arohi Eye Hospital is Imparting the Best Eye Care Services in Mumbai?
At Arohi Eye Hospital, we are on a mission to enhance the quality of life by improving and securing eyesight, preventing blindness, treating eye-disorders and enriching ophthalmic knowledge with generous patient care. The experience and skill of the Surgeon, patient centric design of the Hospital, warm and empathetic patient handling, pre and post OP recovery rooms, coupled with the trust of thousands of patients over all these years is what makes Arohi Eye Hospital unique.
We have the latest and most advanced technology instrument for Lasik surgery in Mumbai, Alcon Wavelight Contoura Ex-500. This instrument is approved by US-FDA and is the latest one in the world for vision correction. Expert Eye Surgeons at our Hospital perform Lasik treatment with full precision, safety measures and accuracy to ensure the best possible outcome for all our patients. We execute the vision correction procedure for eyeglass removal in the safest, fastest and most painless way possible. Anyone above the age of 18 and with spectacles or contact lenses and a healthy eye can opt for Lasik treatment for vision correction and eyeglass removal at our hospital. Using advanced instruments we complete the procedure of vision renewal within 15 mins.
Final Words
So this is the way Arohi Eye Hospital, the top Mumbai-based eye hospital has become one of the prominent names for vision correction and removal of eyeglasses. Apart from Lasik, we provide other related eye care services as well. With more than 15 years of clinical experience and 10,000+ surgeries, we have been imparting quality eye care to 50,000+ patients. Hence, Arohi Eye Hospital has become the face of eminence in the world of Lasik Surgery and vision care.
So for any kind of expert consultation on eye treatment or eyeglass removal, Get in Touch with us.