"Try Not to Become a MAN of Success, but rather a MAN of Values"
For all men out there, who like to stay well-groomed with a dapper look, a grooming kit is definitely a MUST to have. But talking about Indian market, we men hardly get Men based grooming products. Market is full of products focused corely on women but hardly a handful of brands focused on Men. So in my quest for MANLY Products, I came across this brand 'The Man Company' from my friend's last review of The Man Company Perfume (Noire). So I decided to give a shot to their Men Grooming Kit. So here's Review of Men Grooming Kit from The Man Company.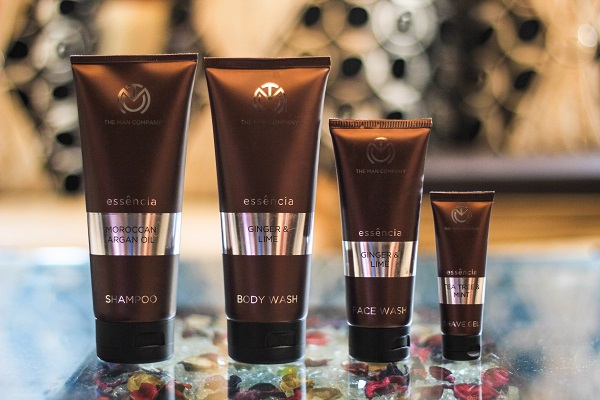 About the Brand:
We are here to create the most awesome Men's grooming products. Let's be honest here, Indian men are the most underprivileged men in the world as far as grooming is concerned. We are bringing the groomed men back. It's time to be full of ourselves. Gentlemen, let's preen up. After all, why should men get all the scum? Well, so here we are – Selling Attractiveness. 

Review of Men Grooming Kit
The kit I ordered was customized & I ordered products of my choice. I got a Shampoo with Moroccan Argan Oil, a Body Wash in Ginger & Lime, a mini Shave Gel in Tea Tree & Mint along with a Face wash in. As per company, their all products are SLS and Paraben free products & Natural essential oils are used. No harmful chemicals and synthetic fragrances have been used in their products. Here's my take on this Grooming Products Combo from The Man Company.
Moroccan Argan Oil Shampoo
The shampoo doesn't come in a traditional plastic shampoo bottle, instead a vertical bottle with a flip cap. The cap is tight & secure hence it is leak proof & travel friendly. Shampoo is milky white in color & its texture is creamy like normal shampoos. The fragrance is nice & doesn't bother sensitive noses. As per company claims, it Prevents HAIR FALL since it is having Moroccan Argan Oil in it. Here's what company info says, "Argan oil is not only beneficial to skin – it is also great for hair. There is some research that indicates Argan oil can even promote hair growth"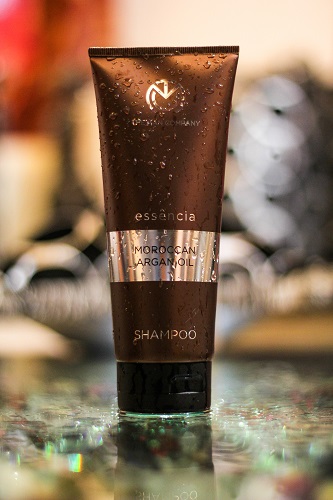 Shampoo lathers nicely & small amount is enough for the hair & hence one bottle can go long. It doesn't dry out the hair & doesn't cause hair fall. Hair feels a bit soft after its usage. So overall a Big Thumbs Up to the shampoo from my side.
How to Use: Take a small dollop of the shampoo and rub into wet hair and scalp thoroughly. Leave it on for 15 seconds and rinse properly. For best results use it daily.
Price: Rs. 449/- for 200ml bottle.

Rating: I will give 4/5 to Moroccan Argan Oil Shampoo; 1 point minus since I found it's a bit costly else it's perfect for daily usage especially due to Argan Oil benefits.
Where to Buy: Buy Moroccan Argan Oil Shampoo here
Ginger & Lime Body Wash:
I am really impressed with this product. Ginger is a powerful antiseptic and cleanser combined with lime it keeps your skin smooth and blemish-free. So fresh you will think it's alive. The product is transparent in color & lathers nicely. It cleanses out skin very well & the best part is it doesn't dry out the skin. So you needn't rush for moisturizers after taking a bath with it.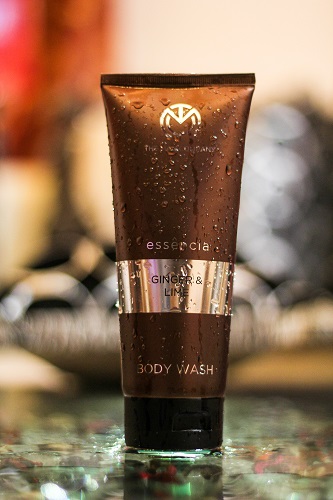 The only negative for me is smell; it smells like a typical ginger lemon paste. I know the name itself says Ginger & Lime Body Wash so it got to smell like that but I am not that fond of this smell. The smell vanishes in sometime so it's not that much of a problem. But if I ignore the smell, it works as per claims. This is a MUST to HAVE product especially during rainy season due to its ginger & lime antiseptic qualities.
How to Use: It's a body wash and as the name suggests, use it during a shower. Pour some of this exquisite formulation on a 'loofa' and rub your body gently and work up a nice rich lather. Bask in this for a while and then shower away.
Price: Rs. 449/- for 200ml bottle
Rating: I will give 4.5/5 to Ginger & Lime Body Wash; 0.5 point minus only for that smell!
Where to Buy: Buy Ginger & Lime Body Wash here
Ginger & Lime Face Wash:
I am in love with this product. I have stopped using all other face washes & this one has become my all-time favorite one. It's perfect, 100% perfect. This not only keeps my face oil free all day but with its usage I have seen my acne problem getting resolved. This has Ginger & Lime Oil has its main ingredients. Ginger is known for its aphrodisiac, antioxidant and toning properties along with its antiseptic and cleansing effects that makes skin clean, smooth and free of blemishes while Lemon oil deploys antiseptic effects fresh minor infections of the skin, including acne & hence toning, balancing and rejuvenating the skin. Also Try BEST HEALTH BENEFITS OF LEMON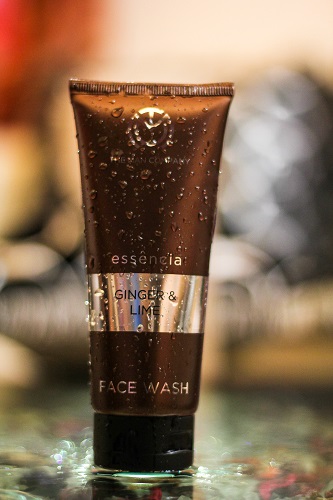 The face wash is creamy in texture & silver white in color. The fragrance is more of lime than ginger & hence I don't have issues with the fragrance here. But the results it gives, I can surpass any smell issue I face with it. It's not sticky & doesn't even dry out skin. Only a pea size amount is sufficient for full face. This particular product I will refer to all my brothers out there who have oily skin &/ facing acne and breakout issues. This size is good enough to be carried in bag during travelling also.
How to Use: Use it while having a bath or when you just want to quickly freshen up. Take a small amount of this face wash and apply on face. Gently scrub it in for about 15 seconds. Wash off with warm water.
Price: Rs. 299/- for 100ml bottle
Rating: I will give 10/5 to Ginger & Lime Face Wash, do I need to say more now?
Where to Buy: Buy Ginger & Lime Face Wash here
Tea Tree Shave Gel
I gave this shave gel to my father because I don't shave; I am a typical beard & moustache guy 😀 This shave gel has tea tree in it & Tea tree has many anti-viral and anti-fungal benefits. It treats wounds and minor cuts, a huge possibility while shaving, and encourages healing while preventing infections. Mint oil gives the cooling and refreshing effect and also works towards brightening up dull skin.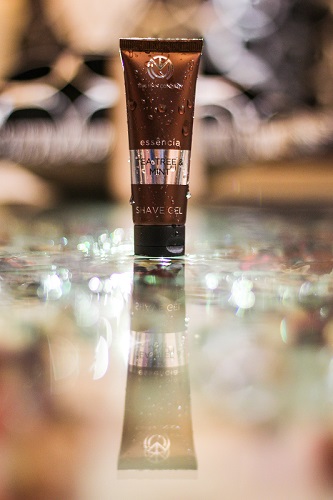 This one is a transparent gel with blue tones in it & typical fragrance of tea tree oil. Though its transparent gel, once my father applied it on brush & applied on face, it lathered pretty well. A very small amount was used by him for face & it turned out quite well. The fragrance is mesmerizing though.
How to Use: Wet the face with warm water. Squeeze some of this exquisite shaving gel onto a shaving brush and gently build up lather on the face. Shave. Wash face with warm water. Feel the difference.
Price: Rs. 149/- for 25ml bottle.

Rating: I will give 4/5 to Ginger & Lime Face Wash.
Where to Buy: Buy Tea Tree Shave Gel here
My Final Take:
I am very happy with The Man Company products and now I know a company where I can find all Men Specific Products. I would love to explore their collection more.
Where to Buy:
Buy The Man Company men Grooming Kit here
Let me know your views about Review of Men Grooming Kit from The Man Company.
Suggested Topics:
You may also like
LIVE YOUR PREGNANCY A COOL DIVA STYLE
9 FOODS TO REDUCE WEIGHT NATURALLY & EASILY
REVIEW OF ANTI TANNING PACK FROM NUSKAA
REVIEW OF TOMATO FACE WASH FROM AROMA ESSENTIALS