Hey My Lovely Peeps 🙂

Today I will be reviewing Tomato Facewash from Aroma Essentials. This face wash is totally Herbal, Natural & Chemical Free :* It's a combination of Tomato, Strawberry, Aloe Vera and some essential oils . So here's Review of Tomato Face Wash from Aroma Essentials.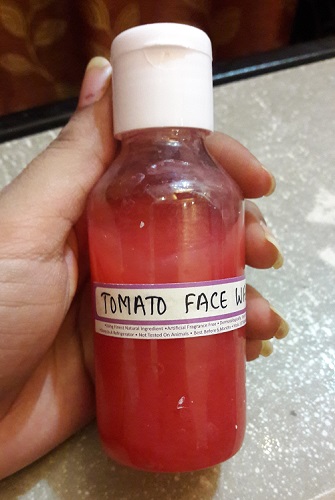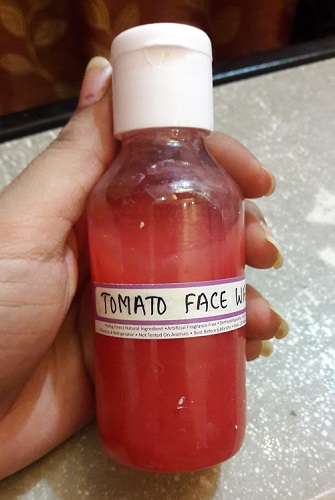 About Company:
Aroma Essentials was started by Mrs. Madhurima almost 12 years ago. Armed with a degree / diploma in Cosmetology and Aesthetics, she set out to make homemade cosmetics to treat her acne condition. Our products are a combination of Aromatherapy and Botanical extracts. Aroma Essentials offer a wide range of Skin Care to Hair Care, Soaps, Eye Care, Lip Care, Scrubs, Face Masks, Baby Care Products, Tan Removal, Make-up remover, Hydrating mist, Belly butter, Body Pomades, Massage candles and many more.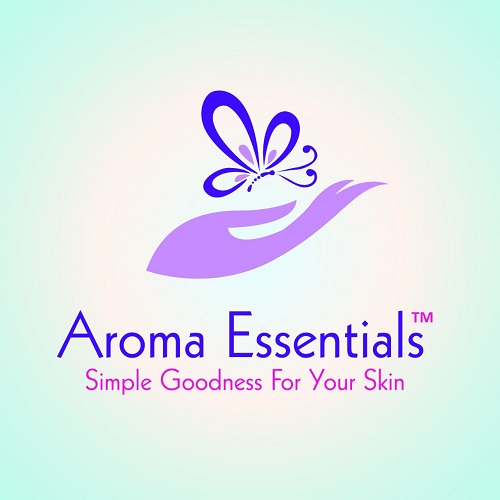 About Product:
It's a Tomato face wash & as we all know the benefits of Tomato for skin, this one is not an exception. Strawberries are rich in ellagic acid. The juice of strawberries plays a vital role in lightening skin while Aloe Vera Gel is an antipruritic (relives or prevents itching), it's a great way to hydrate, moisturize and rejuvenate the skin and increase skin elasticity through collagen and elastin repair. Essential oils promotes the growth of cells and the recycling of cellular matter helping repair the damages. It also contain Peppermint Essential Oil which contains menthol, which is good for the skin because it creates a cooling sensation . Furthermore, it nourishes dull skin and improves the texture of skin.
INGREDIENTS: Tomato Pulp, Strawberry Pulp, Aloe Vera Gel, Cedarwood Essential Oil, Palmarosa Essential Oil, Peppermint Essential Oil
Price: Rs.350 for 120 ml bottle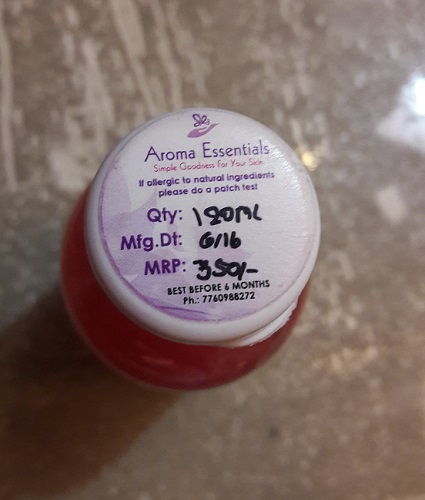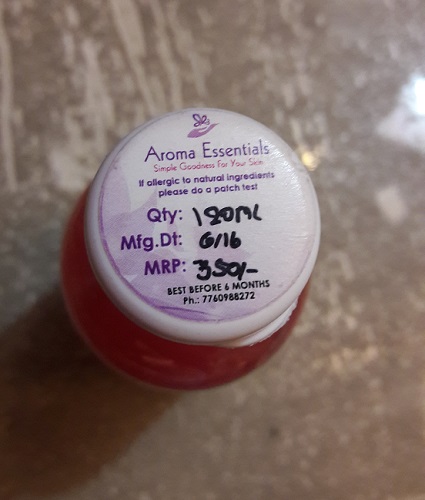 My Take on Aroma Essentials Tomato Face Wash:
This particular product from Aroma Essentials is my favorite & I am going to order 2 more bottles of these soon; one for me & one for mom as even she has loved this one. The best part is this product is a combination of Tomato, Strawberry, Aloe Vera and some essential oils & hence completely herbal, safe & beneficial for skin.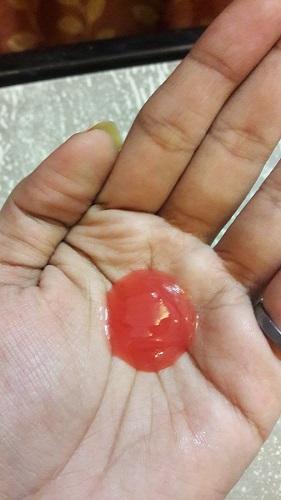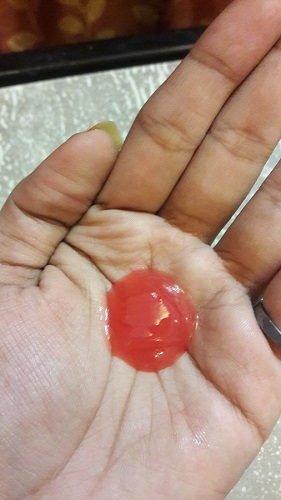 It cleanses the skin in 1st go without making skin dry out. Its typical tomato red in color & consistency is a gel based which is thicker than liquid facewashes & but thinner than cream based facewashes available in the market. The fragrance is soooo nice & soothing that sometimes I just open it to smell that heavenly fragrance. It's very light on skin & doesn't cause nay irritation on skin. It simply comes in a plastic flip cap bottle that is leak proof & hence makes it easy & safe to carry it.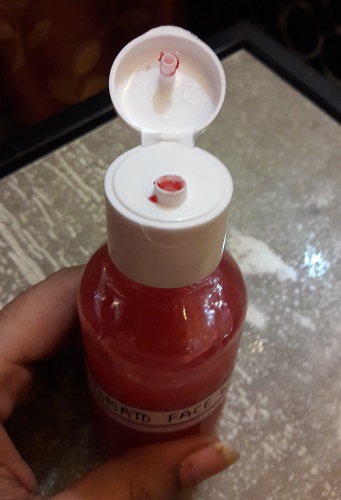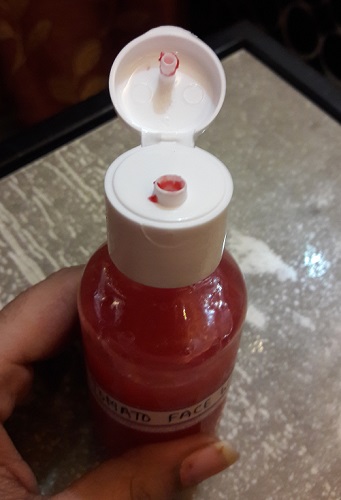 You simply have to take in palm & apply on face & then rinse away. Result is visibly clean skin with an instant glow that lasts for few hours. The best part is this works on Face Tanning also. Tomato is known for its natural effects of removing Skin Tanning & this one works for that very well. I have been suing it daily before going to bed & I have seen my acne marks fading away. Not only it helps removes tanning but also fade away acne spots from skin. A little amount is enough for the face. The best part is it is freshly made as Aroma essentials make it in small batches. Also Try Review of Aroma Essentials Products.

Pros of Tomato Face Wash:
#1. Herbal, Natural & Chemical Free
#2.Helps removes Tanning
#3.Moisturizes skin & hydrates the skin
#4.Suits all skin types
#5.Doesn't cause irritation to skin
#6.Gives cooling effect beating the heat
#7.Gives Instant Glow & Brightness to skin
#8.Removes dullness of skin
#9.Cruelty Free
#10.Freshly Prepared
#11.Clears skin by reducing acne marks
Cons of Tomato Face Wash:
#1.Price, this is only problem I have. If it becomes a bit cheap, It will become my ALL TIME FAVORITE Product. Rs 350/- for 120ml is a bit high.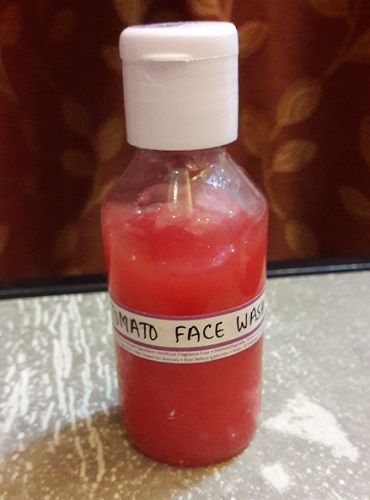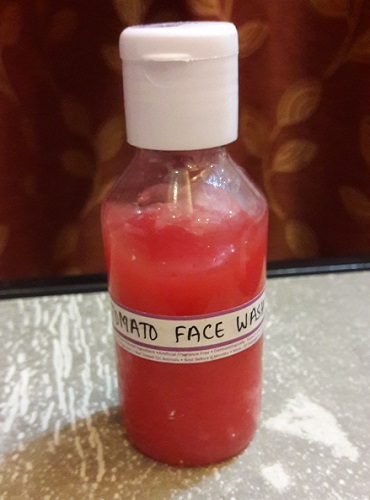 Will I Recommend It:
This particular product from Aroma Essentials, I will recommend to everyone. We all suffer from Tanning during summers & for summers, this face wash is a Must to Keep in your Pocket. It cleanses skin, it is herbal & chemical free, gives instant glow to face & most importantly removes Tanning. What else you want from company, Brad Pitt with face wash 😛
Rating: 4.5/5 (Minus 0.5 only if it becomes a bit more cheap :P)
Go grab your Tomato Face Wash from Aroma Essentials today. Buy it here  Aroma Essentials
Also let me know how much you liked my Review of Tomato Face Wash from Aroma Essentials.
Also Try How to Remove Sun Tan Quickly at Home
9 FOODS TO REDUCE WEIGHT NATURALLY & EASILY