Review of Anti Tanning Pack from Nuskaa
Hey My Lovely Peeps 🙂
Summers are here & We try to protect ourselves from summer heat by having buttermilk,  other cold herbal drinks and having lots of water but what about our outer skin? For me summers directly means TANNING! I do get tanning very quickly though I try to save myself from getting tanned by using scarves on face while going out. Also don't forget to make use of Sunscreen while going out during day time to protect your skin cells from harmful rays of sun. Let's get back to tanning, so I make use of other home remedies & herbal products for saving my skin from tanning. Today I will be reviewing an Anti-Tanning Pack that is from Nuskaa, a well-known Gujarat based company offering herbal & chemical free products. Here's Review of Anti Tanning Pack from Nuskaa.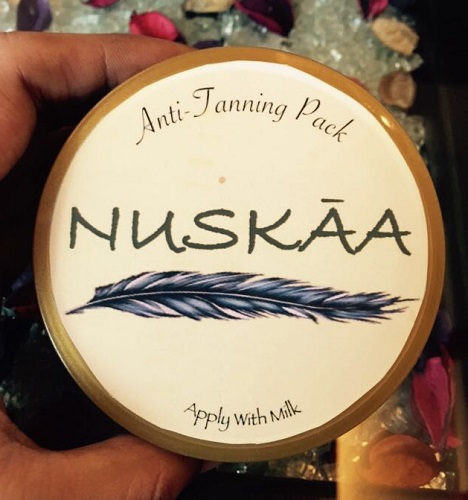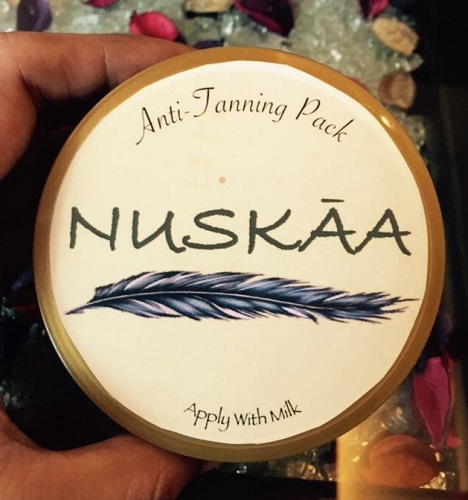 About NUSKĀA Care Solutions:
"Perfect Solution to Every Skin Type"
NUSKĀA is a brand which was built, keeping in mind the needs of people for 100% chemical free yet effective products. NUSKĀA is 100% Pure, 100% Chemical Free, 100% Herbal, and 100% Non-Reactive & 100% Effective. It even customizes the products as per customer's preferences, which is their best part. People have loved NUSKĀA for being true at suggesting products and providing best solutions which have helped them heal their skin easily. Moreover NUSKĀA Packs Are Not Only for Face or for Women Only but are for ENTIRE BODY, since they are skin packs & are for MEN too!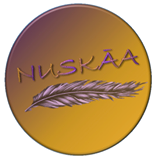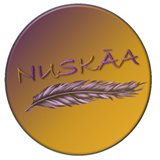 What Company Claims:
Anti tanning pack works best for the people who are tired of their tanned or sun burnt skin. This pack, shows the noticeable difference from the very first day. Regular application of this pack will bring back your skin's natural colour.
Not only it lightens the skin tone, but also, it clears the skin and makes it smooth and soft & also reduces signs of aging.
Price: Rs. 275/- for 75gm pack
Best Before: 12 months from date of manufacturing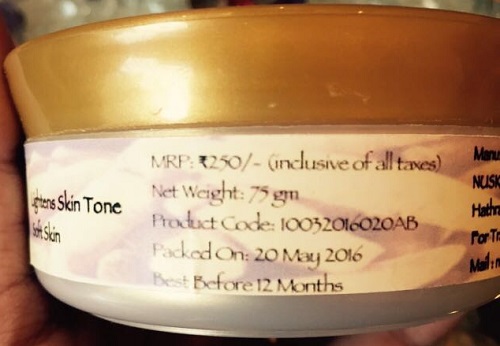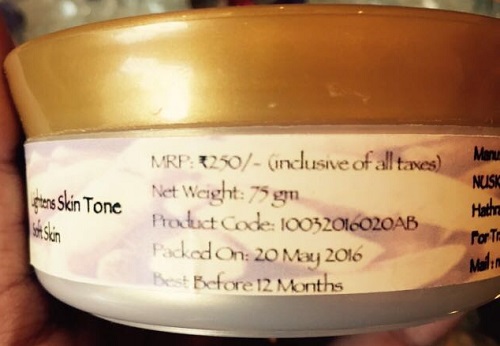 How to Use:
Here are directions to use it. Directions To Apply:
#1.Wash your skin with face wash/Soap/Body Wash. Pat dry the area.
#2.Make a semi paste mixture of the required quantity with "Milk"
#3.Apply a thin layer of the mixture on the skin.
#4.Allow it to dry for 10-15 minutes. (Kindly make sure, you do not sit infront of AC or directly under fan, allow the mixture to dry naturally)
#5.Wash off the pack, after 15 minutes, maximum. (Its okay, if till that time your pack didn't dry completely)
#6.Pat dry the skin, apply "Rose Water" or "Liquid Toner" on skin, and leave it as it is.
Please Note: DONOT use soap, on that area, until 2-3 hours since it takes time for skin to absorb the properties of pack.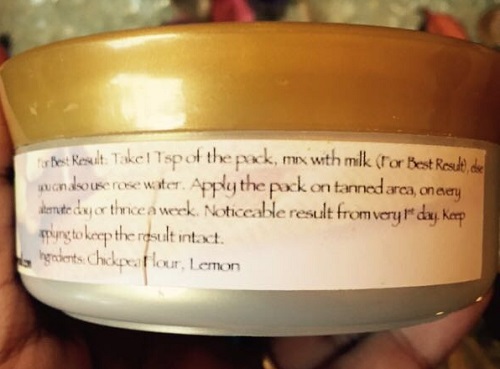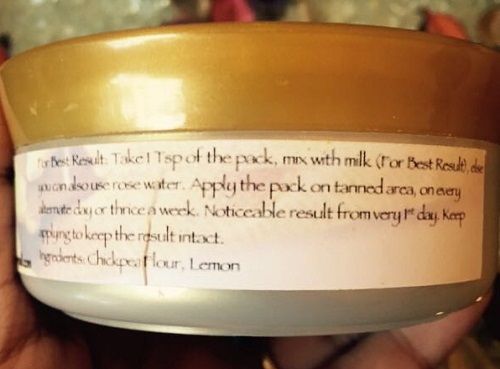 My Take on Anti Tanning Pack from Nuskaa:
Nuskaa Anti Tanning Pack comes in a simple white plastic tub with golden screw open cap. The overall packaging beautiful & is neat & clean.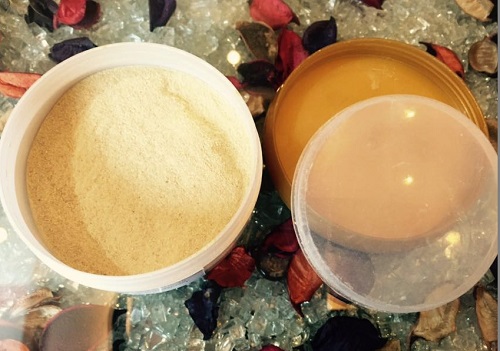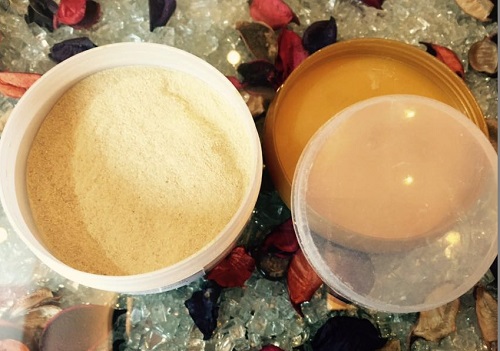 The pack is in form of powder which is made of chickpea & lemon powder (as main ingredients). The smell of the pack when applied doesn't bother my nose.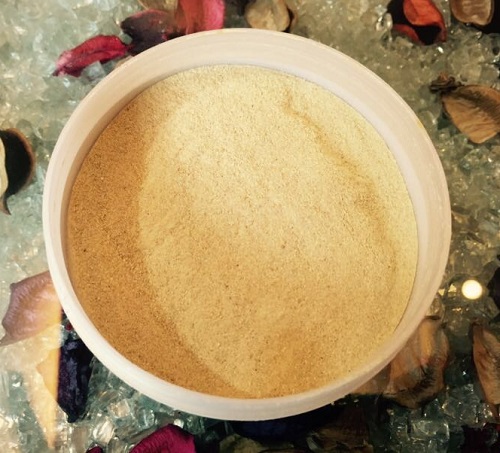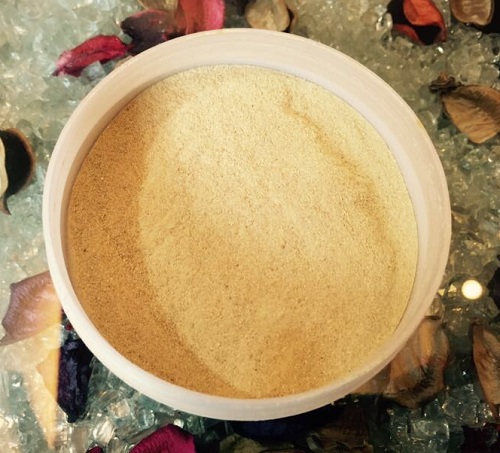 Now as far as results are concerned, yes visible results are there from 1st application. I applied it on my brother who is having huge tanning on his face & arms due to travelling on bike in summers. I made a paste with water instead of milk since he is having very oily skin. I applied pack on his face, neck & arms & let it dry for 10-15 minutes. Then he took a bath & when he came out of shower, I was surprised to see such visible results on his face, neck & arms. He said he removed it like scrub while in shower.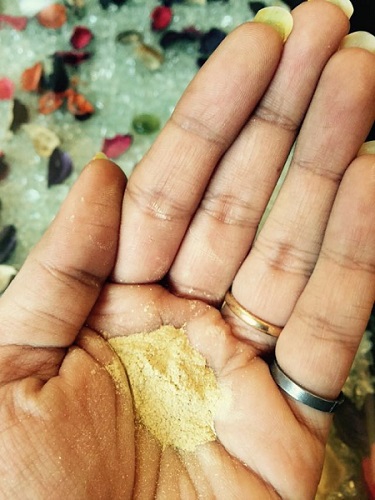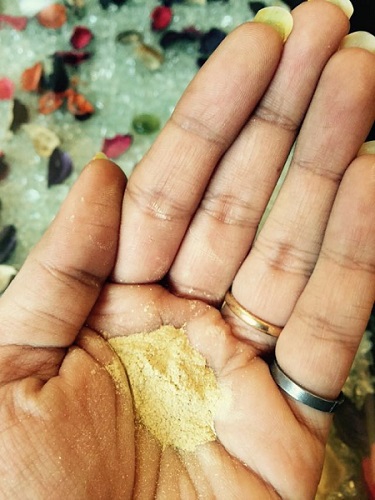 My mom was surprised at such quick effects & asked me whether it is having bleach but as Nuskaa Company claimed it is totally herbal & chemical free.  My brother has become a huge fan of this Anti Tanning Pack now & has taken the entire bottle with him to apply 2 times a week. I am also eager to try it on & I will try with either rose water or milk.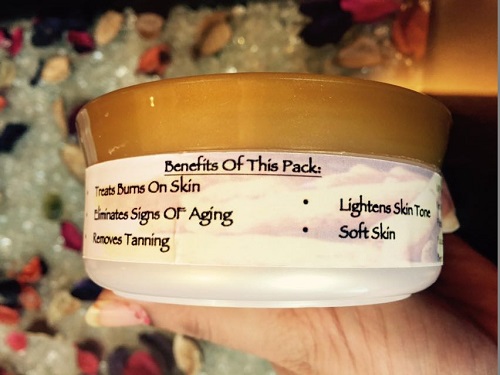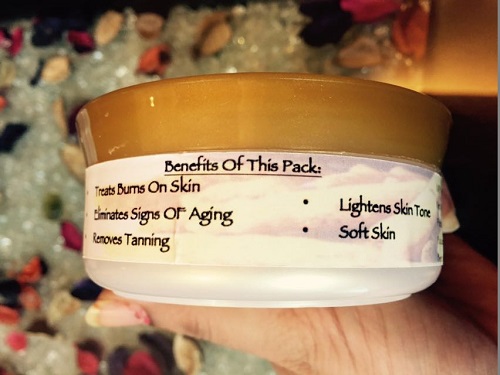 Will I Recommend Nuskaa Anti Tanning Pack?
Yes for everyone suffering from Tanning problems. This is a natural, herbal & chemical free products that gives instant results. Go for it without having any second thoughts!
Nuskaa Contact Details are Instagram, Facebook
Let me know how much you liked Review of Anti Tanning Pack from Nuskaa!
Suggested Topics:
You may also like
HOW TO DEVELOP CONFIDENCE IN YOURSELF
6 TIPS TO DE-STRESS YOUR MIND & BODY
9 FOODS TO REDUCE WEIGHT NATURALLY & EASILY