Hey my lovely Peeps 🙂

In last review, I told you about Miss Nails brand who offer 5-Free nail paints. These Nail paints are free from 5 harmful chemicals; Toluene, Dibutyl Phthalate (DBP), Formaldehyde, Formaldehyde Resin and Camphor. They are safe on chemical front so let's now see how good these are in color, opacity, staying power etc! Here's review of Miss Nails nail paints.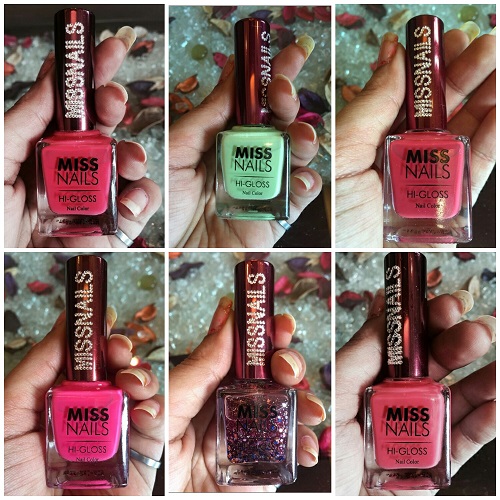 About Company:
Miss Nails is a product manufactured under Crystal Cosmetics, which is established in 2012 and they are currently based in Delhi. Their tagline says "5 Free Nail Color". Our motto here at MISS NAILS is easy to do with polishes that are made without these 5 harmful chemicals; Toluene, Dibutyl Phthalate (DBP), Formaldehyde, Formaldehyde Resin and Camphor.  Although nail polish cannot be made entirely with organic ingredients (yet), we have done our best to ensure that MISS NAILS polishes are safer because safety is of utmost importance to us!
Products Description:
All MISS NAILS polishes are 5-Free!  "What's 5-Free?" you may ask.  5-free is a wonderful thing!  It means that all MISS NAILS polishes are not only made without the 3 common chemicals found in nail polishes (Toluene, Dibutyl Phthalate (DBP), Formaldehyde), but also without 2 other very dangerous chemicals (Formaldehyde Resin and Camphor).  MISS NAILS polishes are FREE of these FIVE chemicals.
Packaging:
The packaging is very cute & it attracts your attention on 1st instant. The glittery embossed Miss Nails on cap of nail paints is super cute. The bottle is square in shape & application brush is long that makes it very easy to use. The Nail Paints are priced at Rs 175/- per piece. The quantity is 16ml.
Review of Miss Nails Nail Paints:
I got 6 shades from Miss Nails & I am in love with all of them. It smells like typical nail paint though it is not that strong like many nail paints render that strong smell which I don't like. The best thing about nail paints is that it dries very quickly. I applied 1st coat & within 3-4 seconds, it dried out. Then I applied 2nd coat & it took 10-12 seconds to dry up fully.
These nail paints do have really smooth texture & it gives very subtle & nice shine to nails. The nail paints are highly pigmented & 2 coats are enough to give good desired opacity. Staying power is quite good & it can go 3 days easily without chipping without a top coat; with top coat it can go for even 5 days.
Try CHEMICAL FREE NAIL PAINTS: YES THEY EXIST
Swatches of Nail Paints from Miss Nails:
Here are swatches of nail paints from Miss Nails:
#1.Perry Pink – Shade Number 09
It's a typical girlie Bright Pink.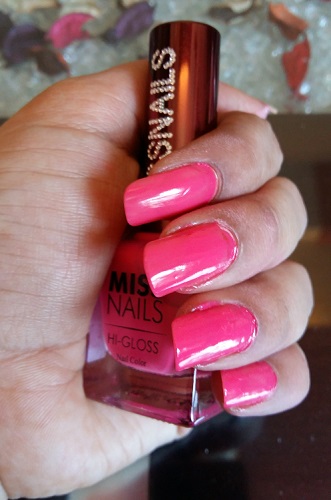 #2.Meet Me at Sunset – Shade Number 57
It's a Bright Coral shade & I am in LOVE with this shade.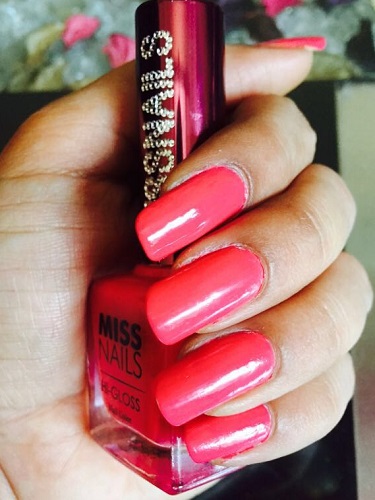 #3.Lemon Tree – Shade Number 65
This one, as the name implies, a bright lemon green color. Very pretty yet subtle.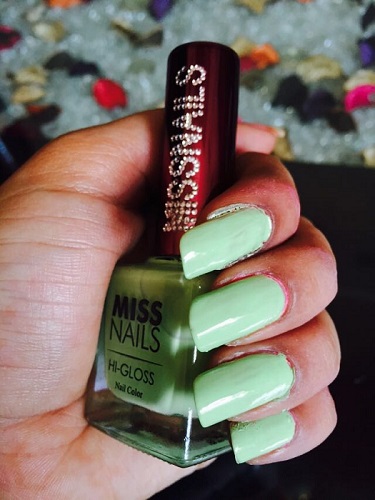 #4.Coral Reef – Shade Number 21
This is a darker coral shade with tint of brick red tones.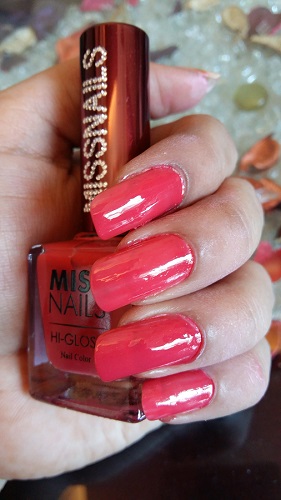 #5.Berry Blast – Shade Number 46
This one is Glitter Nail paint. It's transparent with shining multi-color glitter particles in it.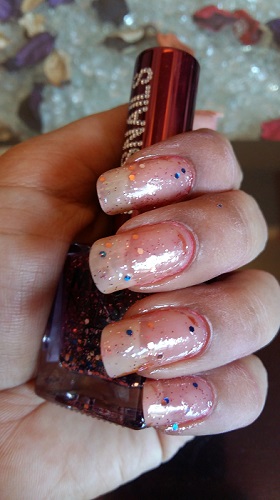 Here i applied it on nail paint as top coat & it looked awesome.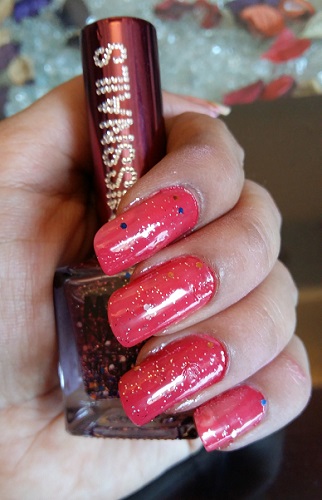 #6.I'm Too Hot – Shade Number 66
This is a perfect & beautiful dark Peach shade.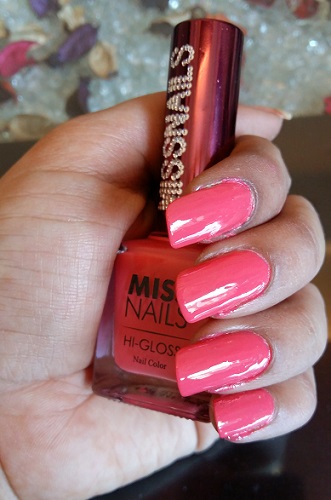 My Take on Miss Nails Nail Polishes:
As far as harmful chemical & their bad effects are concerned, I am pretty happy that these pretty nail paints from Miss Nails are free of those harsh chemicals. Also their staying power, color opacity & texture are pretty good. They are worth every single penny. They have a wide range of cute shades so Girls do check them out at MissNails.
Where to buy from – MissNails
or Check their Instagram handler: MissNails
Also Try 6 ORGANISTICK LIPSTICKS: PICTURES AND SWATCHES
9 FOODS TO REDUCE WEIGHT NATURALLY & EASILY