"Cool Ways to Own Maternity Style"
Expecting a child may be one of the most beautiful things in the world. Knowing you'll soon be holding that little bundle of joy in your arms and love it more than you've ever loved anyone or anything in this world is truly exceptional. And if it's your first time around – that's even more exciting! Still, even though you are becoming a mother doesn't mean you should be letting go of everything you were up until that point and turning into a parent-puppet.So here's our suggestions over how to Live Your Pregnancy a Cool Diva Style.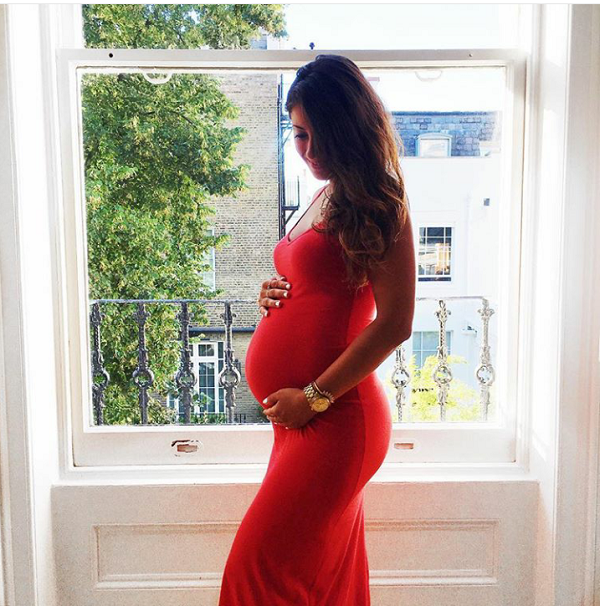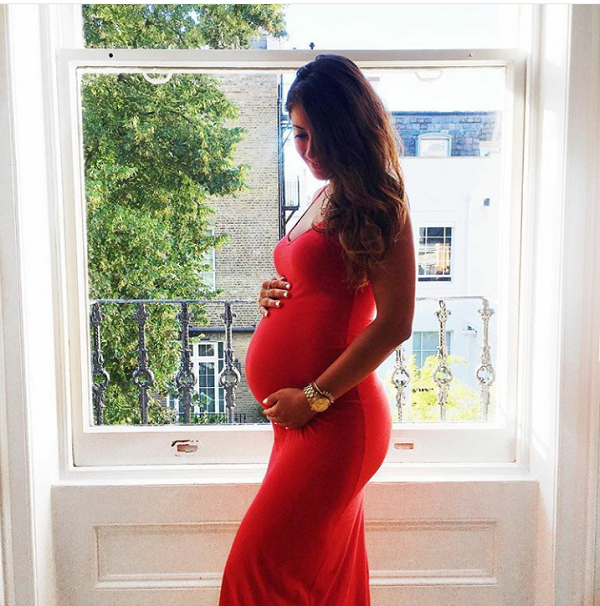 To be a good mother, a good wife, a respectable and fulfilled individual – you need to think about yourself, too, and give everything to stay in harmony with your inner thoughts and desires. It also means not letting yourself look drab, and forget about your fashion sense you've been cultivating. Nobody wants to spend nine months in a clown pair of pants, right? Not to mention ugly, sloppy clothes… not only you'll look sloppy, but you'll ooze discomfort which simply shouldn't be. Our dear moms-to-be, here are some of the suggestions on how to nail the maternity style and who of the prego celebrities to copy, to give that growing bump some class:
#1.Body-con Dresses and Skirts
Love her or hate her, but Kim Kardashian's fashion style has evolved so much through the years, that we can't really neglect the fact that – these days – she's looking fabulous. While she failed heavily with her first pregnancy style, the second one was an absolute success. What's more – her pregnancy style with Saint West was nothing complicated or constrained – a lot of fabulous curve-hugging dresses and skirts that were both stylish and comfortable. Women usually go for I-will-try-to-hide-the-belly-look when they really shouldn't. Showing off your bump is beautiful (you are carrying a life in there, you know!) so there's nothing to hide.
Embrace stretchy knee-length, half-calf or maxi dresses (or pencil skirts) that reach your under bra section and dress them up with a stylish overcoat. You may do without the overcoat easily, and just flaunt your baby curves. A range of colors and patterns works with this base outfit effortlessly, so don't worry about looking too anything when attending a celebration, or going to an office. Chrissy Teigen, was the first to copycat Kim K's style and she did it superbly! So, why shouldn't you, too?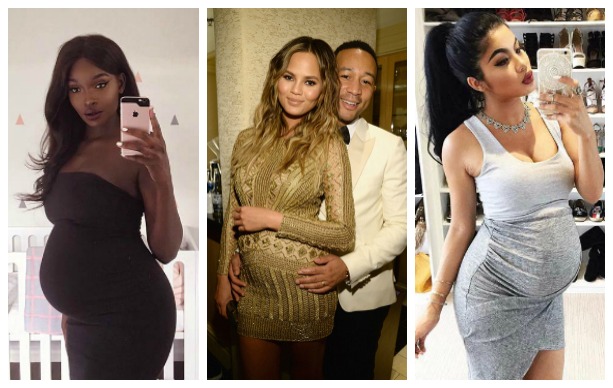 #2.Waistband Jeans
Depending on the way you style them up, waistband jeans may be a true hit or an ultimate failure. They are super comfy – that's true – and if you dress them up a bit, they'll be a perfect option for some casual outings. To give your legs the dimension, opt for jeans with a bell leg. Wear them in either darker or lighter shades, it's your choice. Paired with stylish tunics or even cropped tops (if you've got an enviable body for a pregnant lady) will look amazing.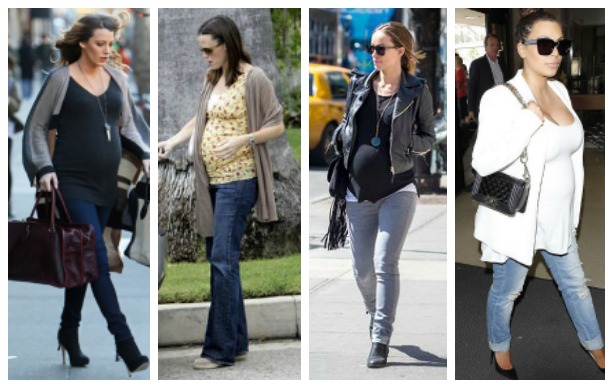 #3.Sporty Wear
For all expecting ladies who have been devoting time to their fitness prior to getting pregnant, it's only reasonable they'll want to stay in their yoga pants and tops. These outfits can actually work very well, and be super glammed up with just a little effort. Instead of opting for a single color legging, go for something patterned and graphic. Top it off with an interesting cropped or fitted top and glam it up with a cardigan in a neutral color. Colors that work amazingly are mauve, beige, deep greens, whites, shades of pastel… There's the pregnant athleisure wear for you, right there!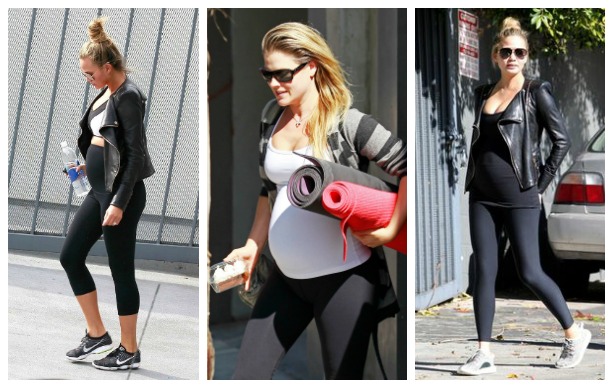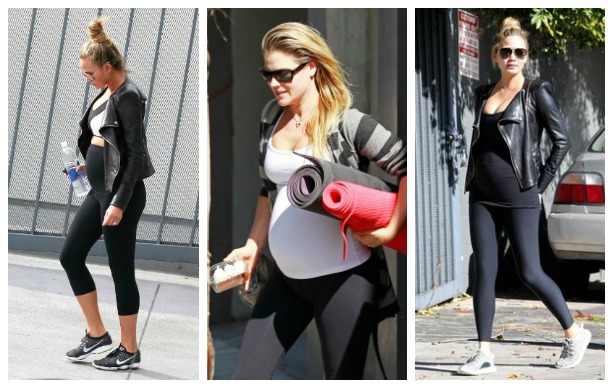 #4.The Right Accessories
The fact that you are pregnant, doesn't mean you should stop jewelry-ing up! Sure, your fingers are swollen, so it's okay to take off the rings, but working on accessorizing in your pregnant style will definitely make a difference. Hats with large brims, your gorgeous Carrera sunglasses, stylish clutches, Birkin-inspired bags (or a real Birkin), necklaces, earrings… anything you feel fits right. We personally love (fake) diamond bud earrings for accessories – they always take the outfit to a whole different level!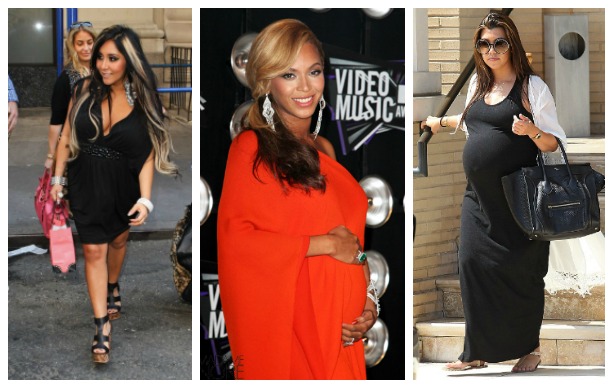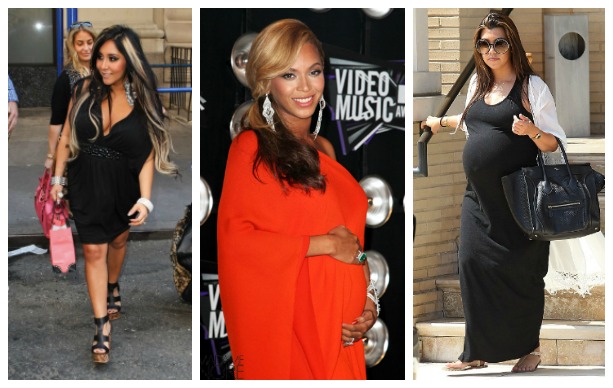 #5.Hair and makeup
No! No dirty hair and ponytails! Absolutely not! Please, treat your hair the same way you did prior to getting pregnant and enjoy those gorgeous waves. Don't forget to get your facials, too and put on just a little bit of makeup every day. A hint of blush or bronzer on the cheeks, just a little mascara and a proper lip kit for confidence – and you are done! Sure, relying on your pregnancy glow for effect is fine on some days – but mostly, why wouldn't you want to look even more gorgeous than you already do?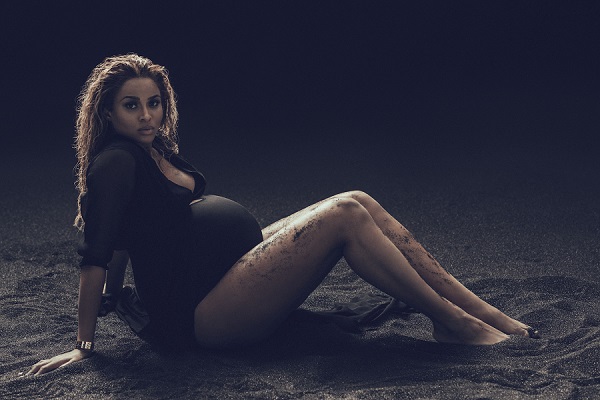 Enjoy your pregnant days, you beautiful ladies – and look forward to the days to come! We would love to see You Living Your Pregnancy a Cool Diva Style!

Suggested Topics:
You may also like
6 Tips to De-Stress Your Mind & Body
REVIEW OF ANTI TANNING PACK FROM NUSKAA
HOW TO BUY BEST SUNSCREEN FOR YOUR SKIN TYPE
7 TIPS FOR FLAWLESS GLOWING SKIN