Even after repeated warning, Ola makes misuse of the license provided by the government. So the government decided to ban Ola services for 6 months straight. Well, seems like they have to handle some loss because of their own deed for these 6 months. But, what rules and regulation were not followed by Ola that got them banned? Want to the complete story? Check out with us "Ola Banned for 6 Months in Bengaluru, Accused of Breaking Licence Terms."
What Did Ola Do?
Ola cabs taxi-hailing services have been banned for 6 months by Karnataka government. As they have violated government rules and regulation by running motorcycle taxis. As we all know, Ola has also started bike taxi services in many states, which is like by many people though, but this service provided by them got them into trouble. A Senior official from the state transport department stated that "Service of Bike Taxis are not allowed, so the decision was taken to suspend its license for six months." You may also like How to Attract Your Crush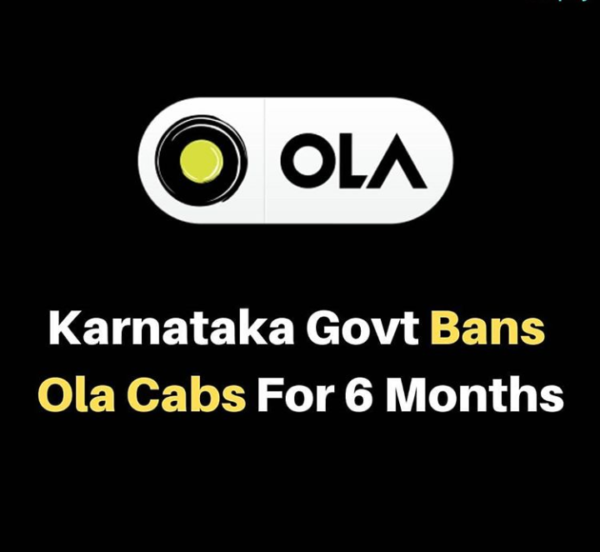 Though even after the banned many users in Bengaluru informed that they were able to book tax or auto-rickshaw late on Friday using Ola App. Also, According to the local media report, Ola is backed by Tencent Holdings Ltd, and SoftBank Group Corp, also by Uber's rival and has the license to provides taxi service from June 2016 to 19, June 2021.
What Ola has to Say About the Ban
In a statement, Ola mentioned, "This notification is unfortunate, and we look forward to an opportunity to address these concerns directly with state officials to find a solution for our driver-partners and millions of Ola users in Karnataka". Ola further added, "Despite other companies continuing to operate illegally, we halted our bike taxi experiment weeks ago". You may also like TOP 25 HOME REMEDIES TO REMOVE TANNING
Though the government says it's against their policies to provide motorcycle or taxi services and banned Ola, we wonder why didn't they do the same for Rapido. Well, Rapido is another operator that provides motorcycle taxi services in cities such as Hyderabad and Karnataka. Though it's was not clear what kind of license Rapido holds that allows them to serve but not Ola. Anyways, what do you think about "Ola Banned for 6 Months in Bengaluru, Accused of Breaking Licence Terms". Do share your views with us in the comment section.
Also Try
15 SHOCKING FACTS YOU DONT KNOW ABOUT SUNNY LEONE
Know These Things Before Taking Protein Powder
Biggest Myth About Weight Loss Busted, Know the Real Truth.
THINGS MEN SECRETLY ADMIRE ABOUT WOMEN BODY
Foods Item that actually helps to lose weight
10 Mistakes You Should Never Do During Sex