Hey my lovely peeps 🙂

In my quest for a Chemical Free, Organic & Natural Lifestyle, I was exploring many brands & talking to them about ingredients they make use of. As everyone knows how crazy I am for Nail Paints but huge list chemicals in nail paints has started giving me headaches. But thankfully recently I came across a brand Miss Nails that offers Nail Paints but with a twist. The company claims its nail paints to be free of 5 Harmful & Toxic Chemicals "Toluene, Dibutyl Phthalate (DBP), Formaldehyde, Formaldehyde Resin and Camphor". So Chemical Free Nail Paints: Yes they Exist! Let's see Chemical Free Nail Paints from Miss Nails are worth the buy?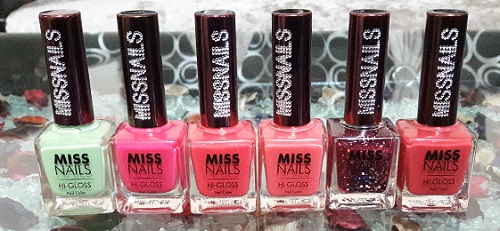 About Company:
Miss Nails is a product manufactured under Crystal Cosmetics, which is established in 2012 and they are currently based in Delhi. Their tagline says "5 Free Nail Color". Our motto here at MISS NAILS is easy to do with polishes that are made without these 5 harmful chemicals; Toluene, Dibutyl Phthalate (DBP), Formaldehyde, Formaldehyde Resin and Camphor.  Although nail polish cannot be made entirely with organic ingredients (yet), we have done our best to ensure that MISS NAILS polishes are safer because safety is of utmost importance to us!
*Sounds Fascinating*
Products Description:
All MISS NAILS polishes are 5-Free!  "What's 5-Free?" you may ask.  5-free is a wonderful thing!  It means that all MISS NAILS polishes are not only made without the 3 common chemicals found in nail polishes (Toluene, Dibutyl Phthalate (DBP), Formaldehyde), but also without 2 other very dangerous chemicals (Formaldehyde Resin and Camphor).  MISS NAILS polishes are FREE of these FIVE chemicals.
#1.Toluene is a liquid that is used as a solvent and has the familiar smell of paint thinner.   Toluene is a toxin that may also cause birth defects and developmental problems in children of pregnant women who have had extended exposure.
#2.Dibutyl Phthalate (DBP) is a commonly used plasticizer and has been linked to cancer.  DBP has also been connected to birth defects in studies involving lab animals. 
#3.Formaldehyde is a commonly used chemical to preserve and embalm dead animals (and humans).  Its vapors are also irritating and can trigger asthma.  Formaldehyde is also a known human carcinogen, a factor directly involved in causing cancer.  
#4.Formaldehyde Resin is a derivative of Formaldehyde, mainly used in the production of coatings and adhesives.  It is not as toxic as Formaldehyde but can be an allergen.
#5.Camphor is a poison that can cause seizures and disorientation if used in large doses.  This chemical acts as a cover on your nails, depriving them of nutrients and causing yellow staining on your nails.
After reading above, I have been wondering what we have been using over these years. I felt quite relived after reading above that Miss Nails' nail paints don't use above harsh & harmful chemicals.
I Got Following Shades:
I got 6 shades from Miss Nails & I am in love with all of them. The Nail Paints are priced at Rs 175/- per piece. The quantity is 16ml. I will review them in next post.
#1.Perry Pink – Shade Number 09
It's a typical girlie Bright Pink.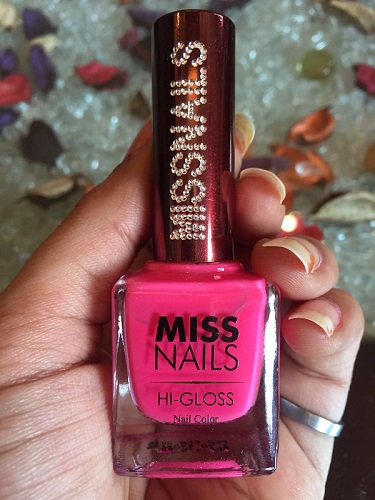 #2.Meet Me at Sunset – Shade Number 57
It's a Bright Coral shade & I am in LOVE with this shade.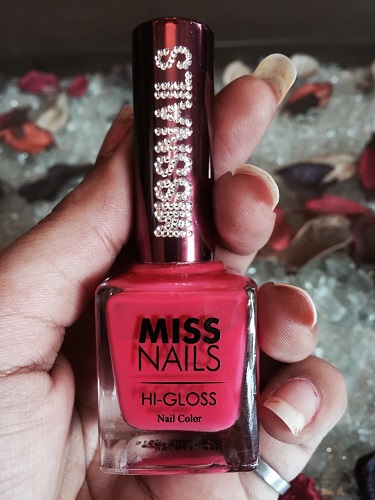 #3.Lemon Tree – Shade Number 65
This one, as the name implies, a bright lemon green color. Very pretty yet subtle.
#4.Coral Reef – Shade Number 21
This is a darker coral shade with tint of brick red tones.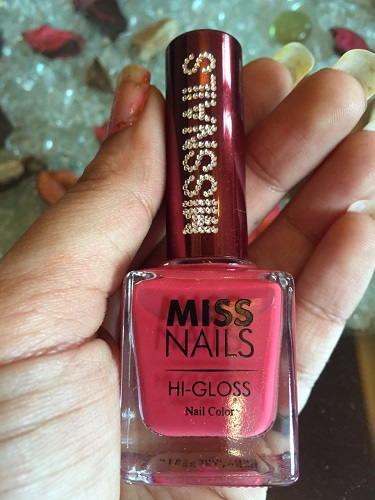 #5.Berry Blast – Shade Number 46
This one is Glitter Nail paint. It's transparent with shining multi-color glitter particles in it.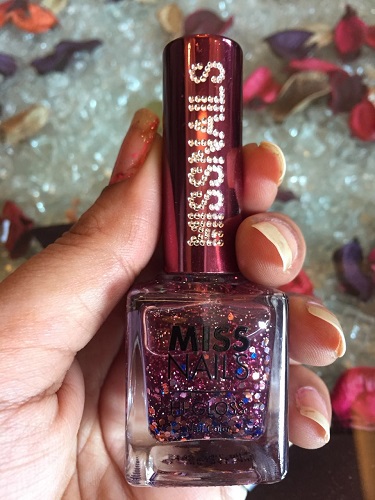 #6.I'm Too Hot – Shade Number 66
This is a perfect & beautiful dark Peach shade.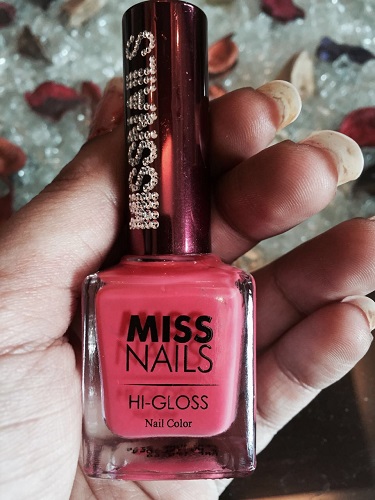 As far as harmful chemical & their bad effects are concerned, I am pretty happy that these pretty nail paints from Miss Nails are free of those harsh chemicals. Good job, Miss Nails has done so far. So I can say "Chemical Free Nail Paints: Yes they Exist". Do try Miss Nails nail paint & lemme know which one is your favorite shade.
Where to buy from – MissNails
or Check their Instagram handler: MissNails
Also Try 6 ORGANISTICK LIPSTICKS: PICTURES AND SWATCHES
9 FOODS TO REDUCE WEIGHT NATURALLY & EASILY