6 Organistick Lipsticks: Pictures and Swatches
Hey My Lovely Peeps 🙂
In my quest for herbal & natural products, I came across a lipstick brand that offers lipsticks made of organic & natural products *Isn't that awesome :)* The company claims its lipsticks' ingredient list to comprise of Shea Butter, Jojoba oil, FD&C Colors, Beeswax, Castor Oil and Carnauba Wax. The lipsticks don't have any toxic ingredients or not even animal fat that make these lipsticks totally vegetarian & free of harmful chemicals. So here today i bring to you Organistick Lipsticks: Pictures and Swatches.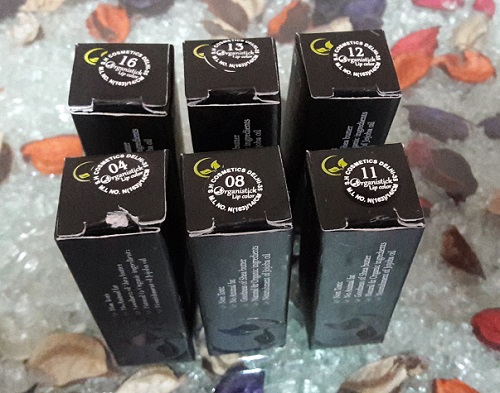 About Company:
"Organistick is the Most Natural Lipstick You can Ever Get!"
Organistick comprises of Shea butter that acts as the perfect lip balm as well as moisturizer to protect your lips during cold and dry weather. With the presence of Jojoba oil in Organistick's composition, you can easily heal your dry and chapped lips. Such premium quality natural & organic ingredients ensure highly moist and smooth lips enabling you to always feel comfortable and confident. You no longer need to worry about presence of any animal fat or toxic ingredients.
Price: Rs 299/- for Every Lipstick
Net Content: 4gm
Best Before: 24 Months from date of manufacturing
Availability – Available across all Online Stores
Swatches of Lipsticks from Organistick:
I got these 6 beauties from Organistick: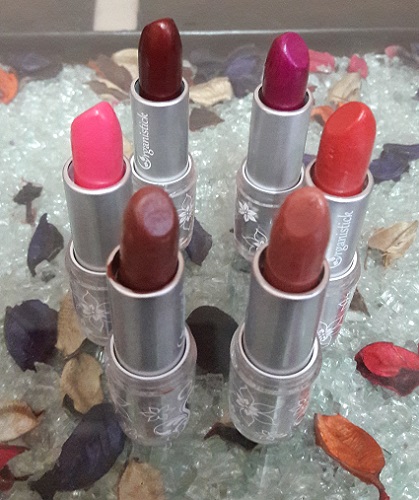 I will review about the quality, consistency, end finish & long lasting effect & other pros & cons of Organistick lipsticks in coming days. Here are swatches of individual lipsticks from Organistick:
#1. Shade No. 04: This one is a brick Red color & one of my favorite. This shade can instantly enhance face brightness without overdoing it. Perfect for an office party as well as a romantic date night & of course our ethnic functions. It will suit all skin color beauties. *Must for all Girls*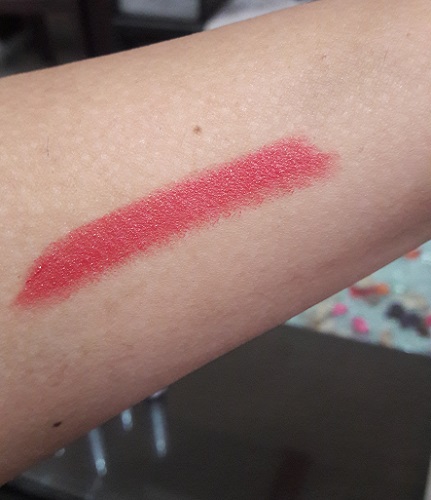 #2. Shade No. 08: This is So Pink Pink 🙂 Perfect for day look & a Must for college goings. Since it is bright Baby Pink, this one is Perfect for Lunch date, Movie Dates &/ Hangout Date with friends. Try 6 AFFORDABLE YET FUN DATE IDEAS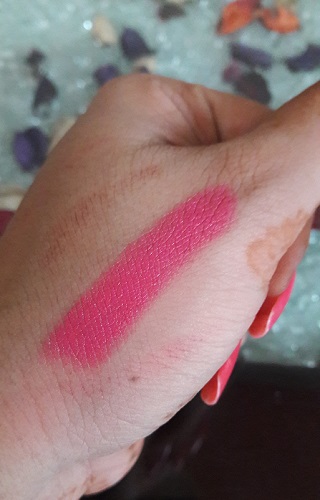 #3. Shade No. 11: This is on darker shade side & is a mix of golden Maroon and Brown. Perfect shade for Indian looks. It's a Glam Color for Glamorous Indian Look.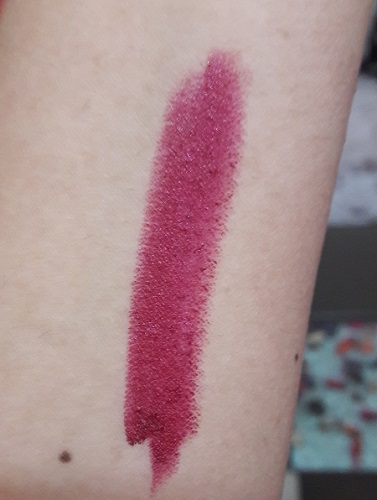 Here's Comparison Shade of 04, 08 & 11:
Here's swatches of 04, 08 & 11 shades all together: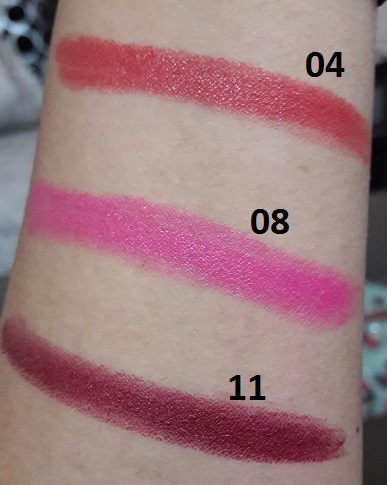 #4. Shade No. 12: Such a pretty shade for all brown & dusky shade beauties. It's a classy brown shade with some bright Golden tint in it. My mom is in love with this shade. It looks super classy on lips.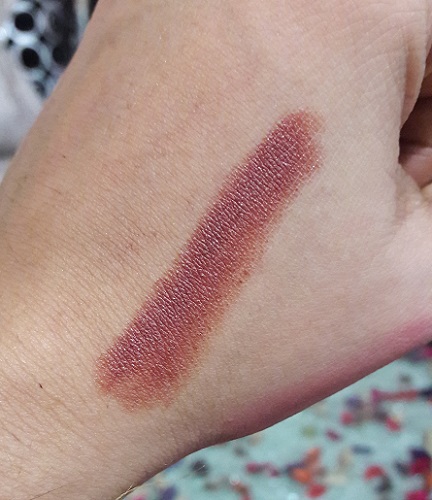 #5. Shade No. 13: The perfect India Color – Bright Mauve. The best shade when you want to glam up your lips on special occasions. From bright single Dresses to Sarees, this shade will go with all attires.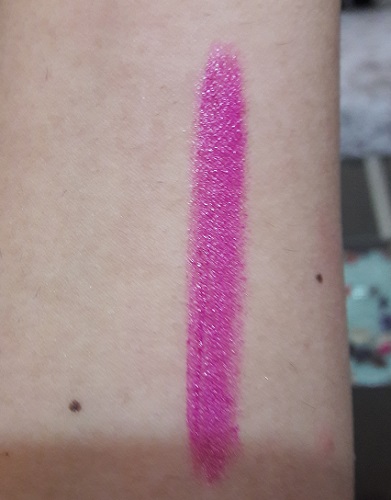 #6. Shade No. 16: A very subtle Natural beige type of brown shade & a Perfect for office wears. Also for days when you don't want much dramatic colors yet don't want to go nude on lips. A classy nude shade of Wood  Brown!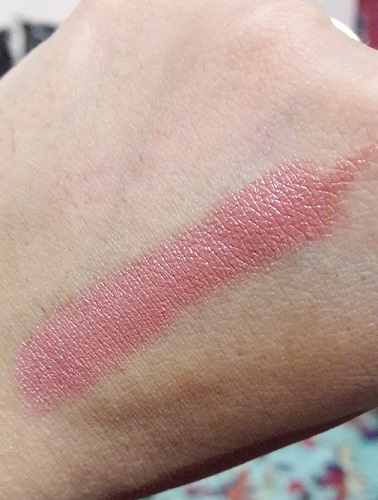 Here's Comparison Shade of 12, 13 & 16:
Here's swatches of 12, 13 & 16 shades all together: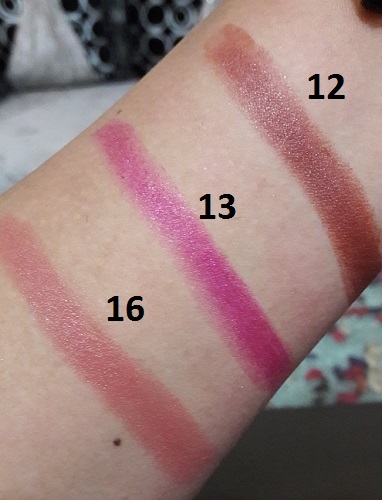 Let me know which shade you fell in love with and how much you liked Organistick Lipsticks: Pictures and Swatches.
Buy Organistick Lipsticks from their website www.organistick.com or contact them on their social media FB, Instagram
Also Try REVIEW OF AROMA ESSENTIALS PRODUCTS
7 SEX SECRETS MEN WANT WOMEN TO KNOW
6 AFFORDABLE YET FUN DATE IDEAS
REVIEW OF BATH SALTS FROM VKARE FUSCHIA
Likes
(

0

)
Dislikes
(

1

)
About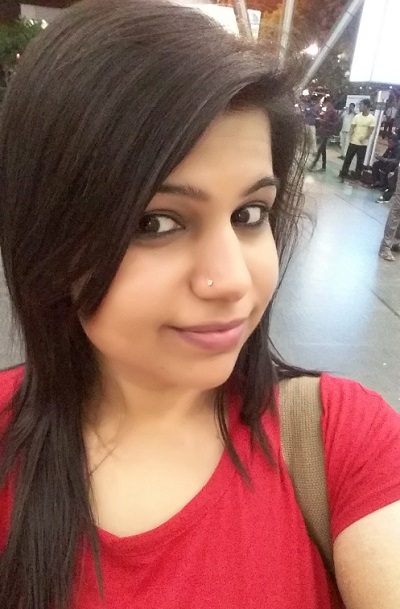 R.Bahri
MarCom professional with 7+ years of hands on experience in Content Writing, Editing & Internet Marketing, R.Bahri is Director of Genesis Whiz. She has written numerous Articles on Style, Technology, Health, Beauty, and Lifestyle with core aim to Break age old society Myths. Visit
www.GenesisWhiz.com
or Connect with her on
LinkedIn
, to know more about her.