"Young Fashion Entrepreneur Zia Rahman is Reimagining Luxury Streetwear in India and launching his own Luxury Streetwear brand 'Feddie City' soon"
When we think of Street Wear Fashion, our mind takes us to a domain of skaters and rappers with distinctive styles like hip hop fashion, modern high fashion and haute couture which Gen Z & Millennials follow with passion and zeal. But in India, streetwear still holds some mistaken connotations. Not anymore! This is soon going to change as Zia Rahman, a Young Fashion Entrepreneur is bringing Luxury Streetwear to India. Streetwear & Luxury? Yes, even I was surprised & excited to know about this unique combo.
I got a chance to meet the avant-garde Young Fashion Entrepreneur – Zia Rahman. We spoke about his inspiring journey, the brands that inspire him, his dream project of a luxury Street Wear Fashion brand, and so much more!
Aarna: Hi Zia, it is wonderful to meet you. You are one of the very few GenZs who are all set to make it huge in the world of business, fashion, and luxury – all at the same time!
Zia: Well, I hope I can achieve this dream soon. I'm looking forward to a candid chat with you.
Aarna: Tell us something about your upcoming project Feddie City. I have heard so much about it, I can't wait to know more.
Zia: Feddie City is my dream project. It is a brand crafted with an aim to expose the Indian market to world-class luxury streetwear. Created with a dream to make streetwear bigger than what it currently is, in India, Feddie City has caps, jackets, tshirts, jumpers, and everything that screams streetwear. It is neon, tie-dyed, bright, wild, and everything that is hip in the luxury market.
Aarna: That's quite impressive. When did it strike you that you want to be a Fashion Entrepreneur?
Zia: The lockdown gave me a lot of time to go back to what I had in my mind for a very long time, and turn my dream into reality – a fashion brand based on "Luxury Streetwear", something that no one has done in India so far.
Aarna: From where do you draw your inspiration?
Zia: The streetwear in London, the Graffities on the streets of London, Fashion shows and TV Media that expand fashion's reach and potential, inspire me to reimagine it, my own way!
Aarna: How is Feddie City Exclusive?
Zia: Feddie City is craziness tailormade for the Gen Z in you. In my opinion, Feddie City's real potential is global reach for a universe that resonates with clothing, infrastructure and estate.
Aarna: When are you planning to launch?
Zia: Feddie City's first global collection would launch around September 2021
Aarna: So, what are you doing these days alongside Feddie City?
Zia: I am currently pursuing my International business management degree at Kingston University, UK. I am glad to have both the journeys together, as they both compliment each other, and everytime I learn a new concept, I cannot wait to implement it in my dream project.
Aarna: What are you passionate about, apart from luxury streetwear?
Zia: I am passionate about reaching a global level with an enterprise created using the cores of management and design. And I'm more passionate about weaving both these dreams together.
Aarna: Tell us something about your hobbies
Zia: This question always baffles me. I don't know which one to say first, I'll just say them the way they come to me. Cricket, music, browsing fashion blogs, kick boxing, karate, and a lot of diverse fitness activities.
Aarna: How did you come across the concept of Luxury Street Wear
Zia: People have a perception of streetwear as funky or cartoonish. But in reality, luxury is a term associated with style in relation with design, quality, and comfort.
Aarna: How do you keep yourself motivated?
Zia: The constant need for research around several inspirations that target clothing and a need to address the gap market in India with a vision to succeed, keeps me highly motivated with my dream project Feddie City.
Aarna: Which one of these brands is your favourite?
Zia: My favourite brands are Palm Angels, Amiri, and Balenciaga.
Aarna: Who is your favourite designer?
Zia: I am a big fan of the concept of Pangaia – recycling & being eco-friendly – it is fashion with a cause, and I love it!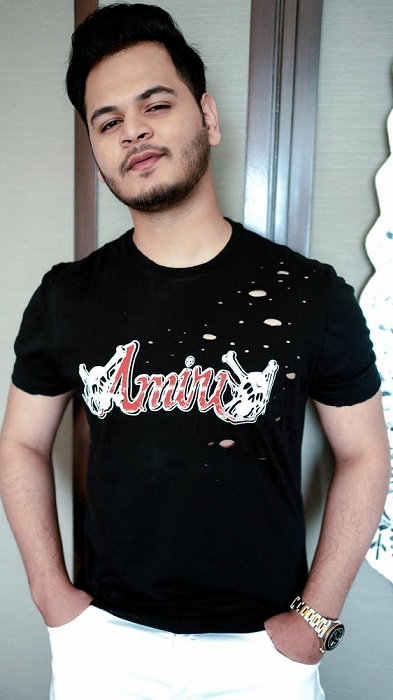 Aarna: How do you define the modern Indian Fashion Industry?
Zia: Modern Indian fashion industry at the moment involves a lot of fast fashion and unsustainable clothing. I believe the vision of Indian modern fashion shall involve ethical and durable clothing where people receive value with ethics for every purchase.
Aarna: What advice would you give to someone who is just aspiring into the fashion industry?
Zia: Go for it! If you can dream it, you can achieve it with passion, dedicated hard work & consistent efforts.
That was a candid interview with Young Fashion Entrepreneur Zia Rahman. To know more about Zia Rahman, visit his Profile here https://www.instagram.com/rahmanzia18