WhatsApp has been recently been introducing many features recently both for iPhone and Android. And, now once again WhatsApp is coming with new features. According to a new report, WhatsApp user's will not be able to take a screenshot of the chat. Want to know the complete story? Read with us about " WhatsApp Users Won't be Able to Take Screenshots of Chat"
There are times when we chat with someone over WhatsApp and end up taking a screenshot of the chat and send it to other users. While some people enjoy this feature others take this as a violation of their privacy. WhatsApp has introduced this function in the latest beta function, though there's no difference if the user enables it or not. You may also like 5 Creepy Things you won't Believe Exist
What WABetaInfo has to Say About it
According to WABetsInfo report, if the user enables the new feature, he or she will not be able to take the screenshot of WhatsApp chat. This new feature has been introduced for WhatsApp beta, Android 2.19.106 version. However, we can't ignore the fact that despite the user have enabled these new features, other user's will still be able to take a screenshot of the chat with you. Sounds confusing right! Well, we all are on the same boat right now.
WABetaInfo mentioned that many people might not like new feature, they also mentioned that since WhatsApp is already working on security and going to launch Fingerprint Authentication Feature soon for Android users, there is actually no use of the screenshot option. But, there's no official date announced on which when this feature will be available for the users to use. You may also like 10 Mistakes You Should Never Do During Sex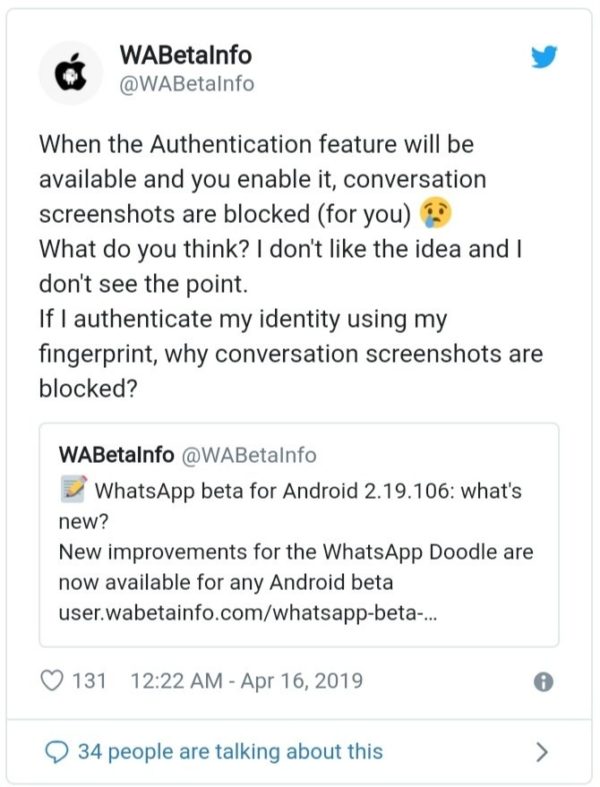 What do you think, this new feature is useful or not? Do share your views with us in the comment section. Also, WhatsApp beta has also brought new Doodle UI update and now the users will able to see two options- one is Stickers and other is Emoji. If you'll click on sticker option it'll direct you to the third party and you can also mark them under your Favorite and different category. However, don't forget to tell us what do you think about "WhatsApp Users Won't be Able to Take Screenshots of Chats".
Also Try
5 Creepy Things you won't Believe Exist
15 SHOCKING FACTS YOU DONT KNOW ABOUT SUNNY LEONE
HOW TO REMOVE SUN TAN QUICKLY AT HOME
Biggest Myth About Weight Loss Busted, Know the Real Truth.
THINGS MEN SECRETLY ADMIRE ABOUT WOMEN BODY
Foods Item that actually helps to lose weight
10 Mistakes You Should Never Do During Sex