Hey My Lovely Peeps 🙂

Today let's talk about 1 problem which I am sure you all have faced, ACNE. **Naam to Suna hi Hoga** 😛 😛 😛 The name itself is enough to remind you of Nightmares these acnes have given you just a day before your parties, functions, occasions or any other big day! I do have an acne prone skin & the worst part acne always leave those ugly acne marks L So I started looking for something, that can help me removing those dreadful acne marks from chubby cheeks 😛 During my hunt for a No Marks Products, I came across an astounding product; No Marks Skin Pack from NUSKĀA. The best thing, this pack is totally Chemical Free, Herbal, Natural and Organic. Here's review of No Marks Skin Pack from NUSKĀA.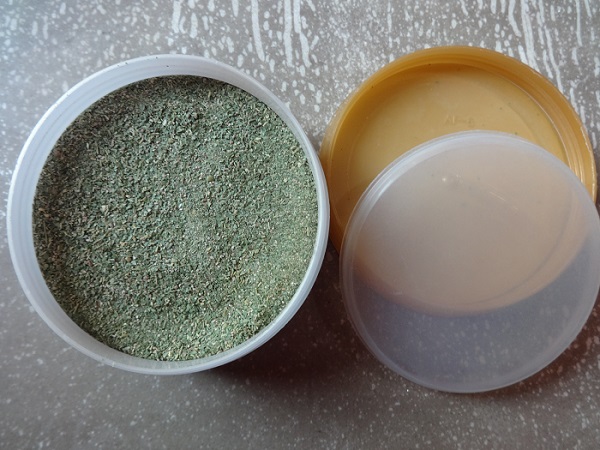 About NUSKĀA Care Solutions:
"Perfect Solution to Every Skin Type"
NUSKĀA is a brand which was built, keeping in mind the needs of people for 100% chemical free yet effective products. NUSKĀA is 100% Pure, 100% Chemical Free, 100% Herbal, and 100% Non-Reactive & 100% Effective. It even customizes the products as per customer's preferences, which is their best part. People have loved NUSKĀA for being true at suggesting products and providing best solutions which have helped them heal their skin easily. Moreover NUSKĀA Packs Are Not Only for Face or for Women Only but are for ENTIRE BODY, since they are skin packs & are for MEN too!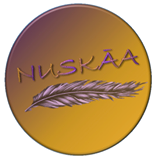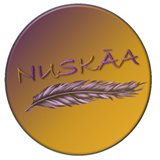 What Company Claims:
Are you tired of never ending pimples on your skin? Or the after marks of pimples? Or Acne? Or Ugly Marks on skin? Or Open Pores on Skin? We have the perfect product for you here. This product not only clears your skin, but also brings back the natural colour of the skin. Now no need to visit dermatologist for your skin problems & pay huge fees out there. Just grab one of our products and be beautiful. Noticeable difference in half an hour of applying the pack.
Price: Rs. 275/- for 75gm pack
Best Before: 12 months from date of manufacturing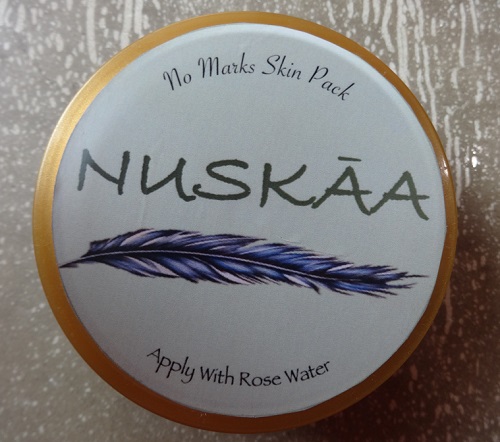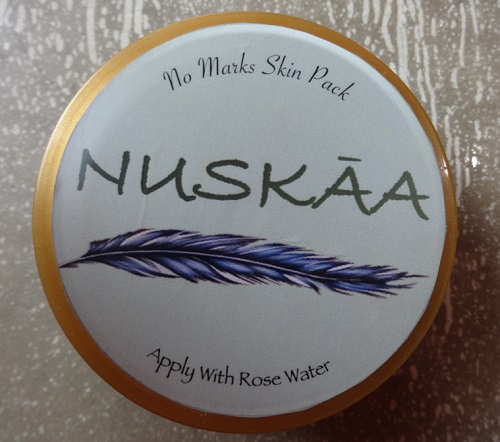 How to Use:
Here are directions to use it. Directions To Apply:
#1.Wash your skin with face wash/Soap/Body Wash. Pat dry the area.
#2.Make a semi paste mixture of the required quantity with Mils, Rose Water or Normal Water.
#3.Apply a thin layer of the mixture on the skin.
#4.Allow it to dry for 10-15 minutes. (Kindly make sure, you do not sit infront of AC or directly under fan, allow the mixture to dry naturally)
#5.Wash off the pack, after 15-20 minutes, maximum. (Its okay, if till that time your pack didn't dry completely)
#6.Pat dry the skin and leave it as it is.
Please Note: DONOT use soap, on that area, until 2-3 hours since it takes time for skin to absorb the properties of pack.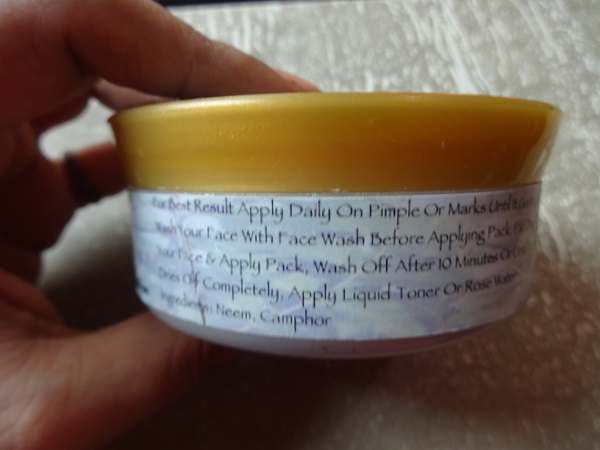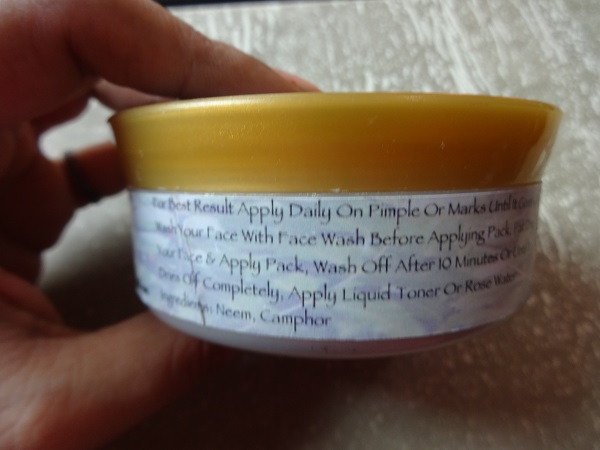 My Take on No Marks Skin Pack from NUSKĀA:
I had my great experince with BRIDAL UBTAN PACK FROM NUSKĀA and ANTI TANNING PACK FROM NUSKAA. Both of them are an important part of my Skin Care Regime. NUSKĀA No Marks Skin Pack comes in a simple white plastic tub with golden screw open cap. You simply have to open the bottle, take some with a spoon into a bowl and make pack. The pack is in coarse powder form & grass green in color. The fragrance is typical Neem type fragrance.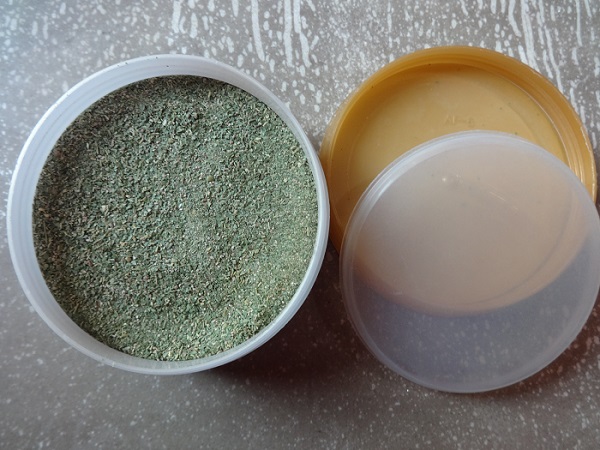 I made the pack with normal water. The pack is more like a scrub cum pack while I was applying the pack. One mistake I did here, applied it too close to my eyes & damn it stings my eyes like hell. I was crying. I couldn't even keep it for 15-20 min instead removed within 5 minutes. It's totally my mistake as it's written in instruction to keep away from eyes. Try HOME REMEDIES TO GET RID OF ACNE SCARS.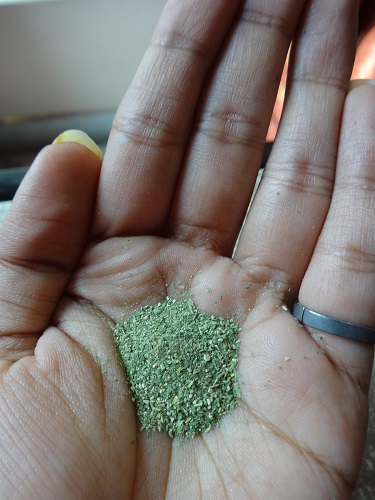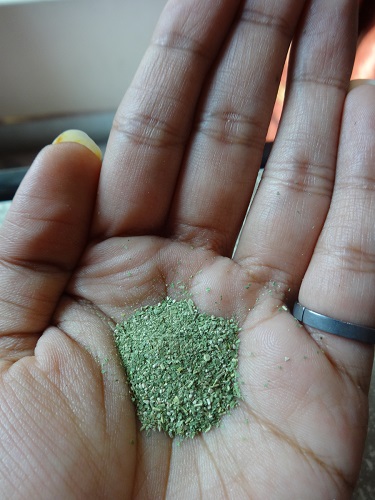 It doesn't go on skin like usual packs but a thick scrub cum pack type. I applied on face & then while removing, wet my hair a bit water & start rubbing it as a scrub & removed it. Result was an instantly Clear Face. There was a subtle Glow on face too. The best part next day, my acne was a bit small & dries out which usually takes 2-3 days but due to this happened in 1 day only.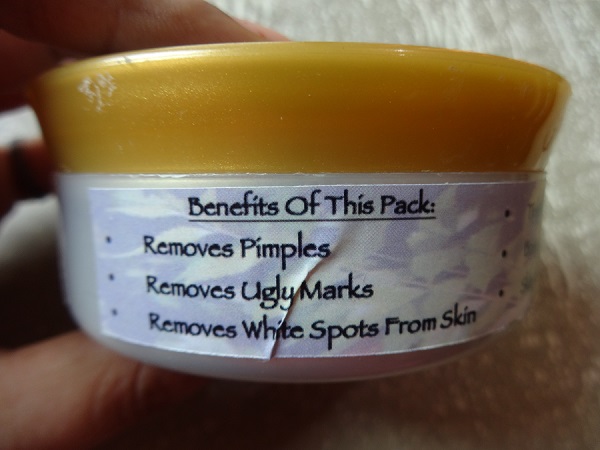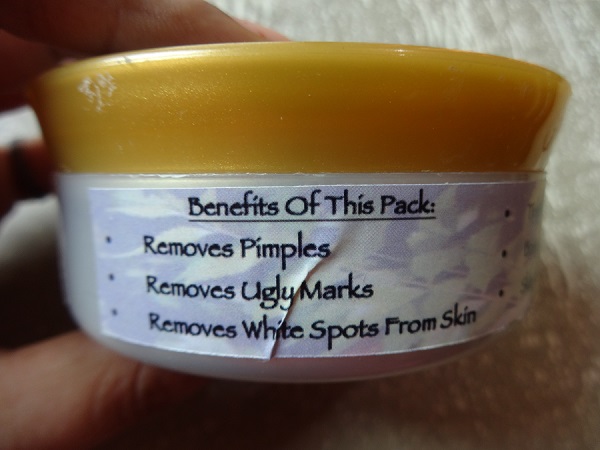 It won't fade away the marks on face instantly like a magic wand but then no product will do that. But it does makes skin clean & clear instantly & yes old acne marks on my face were lightened a bit, just a bit. So if I use it 2 times a week, I think it will surely fades away the marks.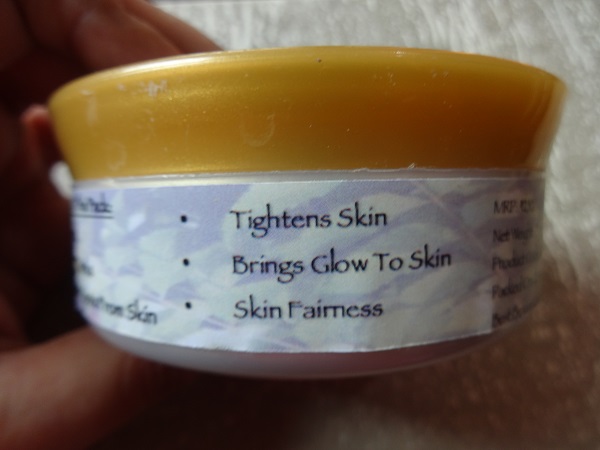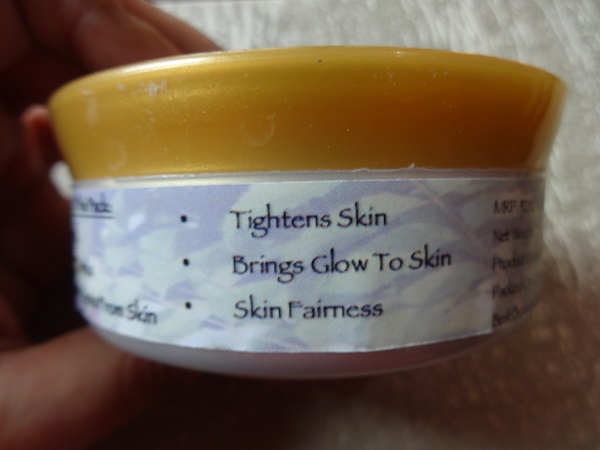 Pros of NUSKĀA No Marks Skin Pack
-Natural, Herbal & Chemical Free Product
-Good for Acne Prone Skin
-Fades away acne marks on sin with regular usage
-Its scrub cum face mask means does the work of exfoliator too
-Instantly Cleans the skin making it look clean & clear
-Add subtle Glow to Skin
-Affordable
-Preservative Free
Cons of NUSKĀA No Marks Skin Pack
-Strong fragrance which is not pleasant at all
-Stings eye
Will I Recommend NUSKĀA No Marks Skin Pack?
Acne prone skin people should give it a try. This is a natural, herbal & chemical free product that is good for acne prone skin. Go for it without having any second thoughts! This is a MUST TO HAVE in your bag thing.
My Rating: I will give 4 out of 5 Stars.
Nuskaa Contact Details are Instagram, Facebook
Let me know how much you liked Review of No Marks Skin Pack from NUSKĀA!
Suggested Topics:

AROMA ESSENTIALS CORRECTOR UNDER EYE GEL REVIEW
10 INTERESTING FACTS ABOUT BRAD PITT
REVIEW OF BRIDAL UBTAN PACK FROM NUSKĀA
15 INTERESTING FACTS ABOUT EARTH
9 FOODS TO REDUCE WEIGHT NATURALLY & EASILY
REVIEW OF GROOMING PRODUCTS FROM AROMA ESSENTIALS
HOW TO DETOX YOUR BODY NATURALLY?
TIPS TO HOST CREATIVE TEAM BUILDING EVENT