Review of Herbal Soaps by Vkare Fuschia
Hello My Lovely Peeps 🙂
Today I am back with another review & this time it is Natural Handmade Soaps. I was so excited when I came to know about this company "Vkare Bio Sciences" offering "Fuschia Skin Care" range of products which are totally
    —Paraben Free
   —Sulphate Free
   —Phthalate Free
   —Cruelty Free
Today I will be reviewing 3 Natural Handmade Soaps, "Fuschia Tea Tree Oil", "Fuschia Tea Rose" and "Fuschia Papaya Detan". Here's Review of Herbal Soaps by Vkare Fuschia. Let's see how good these are!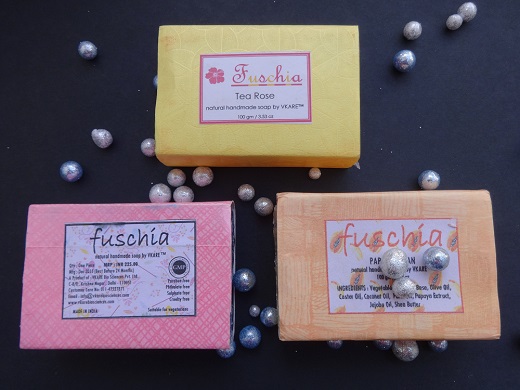 About Company:
VKARE BIO SCIENCES Pvt. Ltd. covers the area of Healthcare and Biotechnology. This means collaborating in an efficient, transparent and flexible way to help clients find answers and results they need. Our core philosophy reflects in our motto "We Care". The organization is dedicated to the commitment of quality products and excellent customer service. At the heart of our success is our belief to develop strong and long lasting relationships with our customers. We work closely with all stakeholders to understand their challenges and how we can combine our skills and resources to achieve a common goal: improved healthcare to all. The values on which the company was founded have always inspired growth and will continue to do so in times to come.
Packaging:
These soaps come in colorful paper packaging that has information printed over them. The info provides ingredients list, along with generic info like MRP, address, mfg, best before etc.
Now coming to the Soaps
Fuschia Handmade Soap – Tea Tree Oil
We all know Tea Tree Oil is a boon for skin as it soothes the skin with its natural healing properties. Also Tea Tree Oil is very good for acne prone skin & prevents blemishes due to its antiseptic properties. This one is a dark teal green in color & has the typical fragrance of Tea Tree Oil. Since I have a combination skin & prone to acne skin type, I keep this one for me & have been using it on daily basis. From all 3 soaps, this one is my favorite. It lathers well, cleanses well & doesn't dry out my skin.
Rating: 8 out of 10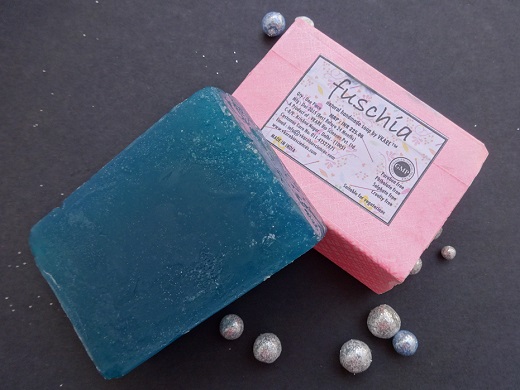 Fuschia Handmade Soap – Tea Rose
Now this one is a typical girlie girl soap & my only problem with this soap is that I feel like eating this one 😛 Yes, it sounds funny but this is such a dark red rose colored soap with a red rose fragrance that reminds me of 'Rooh Afza' & every time I see it I get the urge to EAT it. This soap contains anti-oxidants & glycerin is very good for normal skin people for regular use as it will keep the skin healthy, supple & moisturized. I gave it to my sister as she is blessed with normal skin *Jealous Me*
Rating: 7.5 out of 10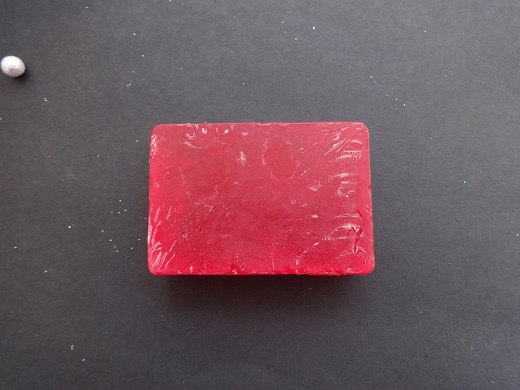 Fuschia Handmade Soap – Papaya Detan
This soap is enriched with so many medicinal benefits that it should be named "Miracle Detan". It's regular usage is good for
—Acne Relief
—Helps in Skin Lightening
—Removing Dead Skin
—Exfoliates Skin
—Facial Cleanser
—Reduces Calluses on hands and feetAcne Relief
Company also claims that it can help to relief insect sting pain over which I can't comment as I am surprised over this claim too. But anyways, above mentioned properties are more than enough to fall for this soap but the only & seriously the ONLY drawback is its fragrance. It has that typical medicinal soap fragrance which is a turn down for me but many of you won't mind its fragrance considering the benefits it has for skin. I gave it to my younger brother as his teenager skin was looking for a Superhero to come & save his skin from those Teenager Skin issues.
Rating: 8 out of 10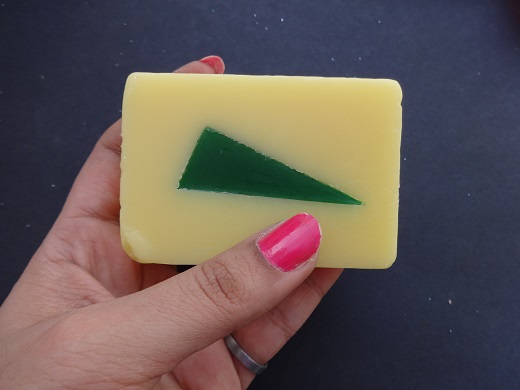 My Take of Fuschia Handmade Soap
Pros:
—Natural & herbal handmade soaps so you know you are keeping your skin safe from those harmful chemicals
—Paraben Free
—Sulphate Free
—Phthalate Free
—Cruelty Free
—Every soap offers some good herbal benefits for skin
—Are made of very nice natural products which are very good for skin
Cons:
—Price, for me the 1st & biggest con is the price factors as these come in a range of 200-250/- INR per 100 gm soap. I know it's not actually a con considering these are Natural & herbal handmade soaps & totally free from harmful chemicals but then there is always a scope for betterment & Vkare only needs improvement here in pricing 😛 Make it cheap so that I can their entire range 😛
—Fragrance for Papaya Detan is a turn down for me (but of course not for all)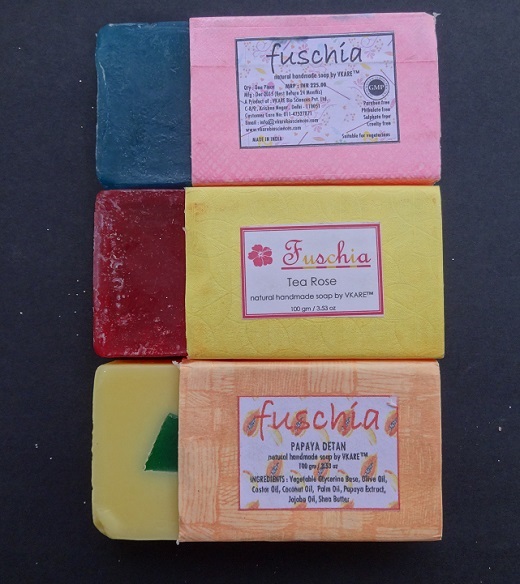 My Final Words
I loved the concept of Natural & herbal handmade soaps which are Paraben Free, Sulphate Free, Phthalate Free and Cruelty Free. You know you are not harming yourself with lods of chemicals. I will highly suggest these to everyone especially if you are like me having sensitive skin, as these surely a boon for people with sensitive skin. For the quality they are providing, these are worth those extra bucks you will be putting or shall I say Investing for your skin.
Go check their stuff here
Also Try REVIEW OF ONLINE STORE ROMINKS THE STYLE SHOP
REVIEW OF ONLINE STORE JUGAADUU
Likes
(

0

)
Dislikes
(

1

)
About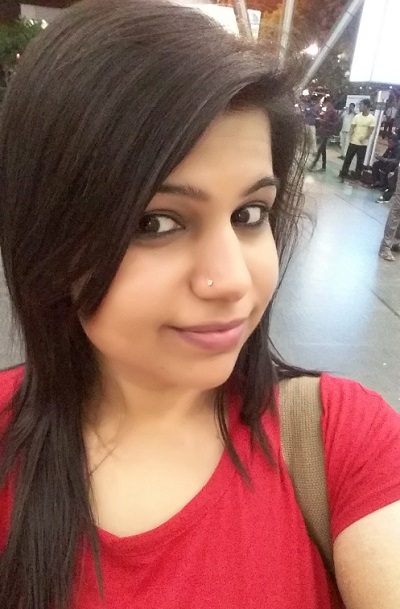 R.Bahri
MarCom professional with 7+ years of hands on experience in Content Writing, Editing & Internet Marketing, R.Bahri is Director of Genesis Whiz. She has written numerous Articles on Style, Technology, Health, Beauty, and Lifestyle with core aim to Break age old society Myths. Visit
www.GenesisWhiz.com
or Connect with her on
LinkedIn
, to know more about her.