[hide] Why Women should Start Swimming, Reasons Why Women should Start Swimming[/hide]
While exercising offers  a myriad of health benefits including improving physical and mental health, there are some exercises which not only aid in getting overall-well being but also help the person to release stress and unwind. Swimming is one such exercise, which not only helps women to lose those extra pounds and crush calories but also supports the de-stressing. Here are top 7 Reasons Why Women should Start Swimming: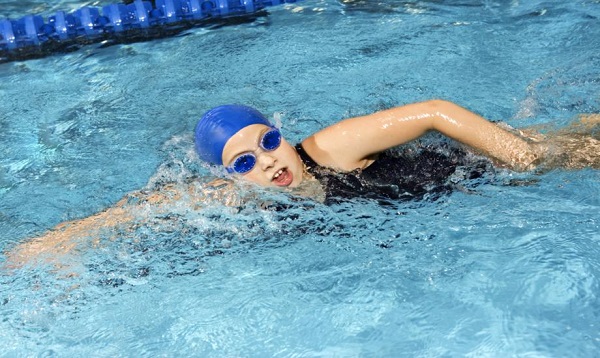 #1.Balance Your Build
There is no better way of getting back in shape than swimming. Going for a swim helps in building strong and leaner muscles while boosting the metabolism of the body, resulting in the longer calorie burning process. Even when you stop swimming, your body keeps on burning the calories and you get into the shape in much lesser amounts of time.
Also Try 9 FOODS TO REDUCE WEIGHT NATURALLY & EASILY
#2.Benefits of Both Cardio and Strength Training
Swimming is a great exercise that uses your own body weight to challenge you. Since, water is about 800 times denser than air, when you are moving in the water, you can burn more calories than moving in air. Furthermore, as you are pushing against your own body weight, you get the benefits of the strength training as well, as swimming helps you build leaner muscles and shed the extra fat.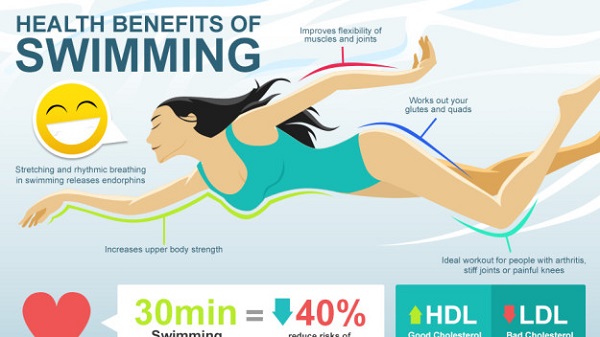 #3.It Gives You An Awesome Experience
Swimming is not just an exercise, it's a life skill. When you know how to swim, you can swim anywhere and unwind yourself. You can swim in the oceans, you can go snorkelling, you can go deep sea diving and experience the tranquillity of calm water. It's an incredibly wonderful experience.
#4.Swimming Makes You Smarter
When you submerge yourself into the water up to your heart, the blood flow to the brain increases by a whopping percentage of 14%. Researchers hav concluded the water pressure on the chest cavity is responsible for it. The more blood flow to the brain implies more active brain, and thus, you become smarter when you swim.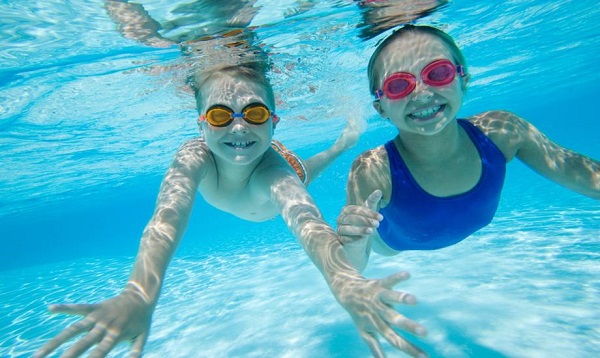 #5.Swimming Slashes The Major Stress
Swimming is indeed a stress buster. While the exercise induced endorphins in your body do wonders in reducing our stress levels, getting in the water in order to workout delivers it's own set of mood-boosting benefits.
Also Try 6 TIPS TO LOSE WEIGHT QUICKLY
#6.Its Great for your Lungs Health
When your face goes underwater, the oxygen usage by the body becomes more efficient. Moreover, your body adapts to take more fresh air with each breath while expelling more carbon dioxide. This enhances your lung health, reduces the blood pressure and helps you get better stamina.
#7.Swimming Targets Your Otherwise Underworked Muscles
The body postures during swimming change at a very fast pace and the muscles required to swim are often the most under-worked muscles in the body. Swimming gives these muscles  healthy exposure while aiding in the development of deep stabilizing muscles in the core of the body.
So, what are you waiting for. If you know how to swim, then its time to hit the pool and if you don't, simply enrol yourself in the swimming classes. A supplementary benefit of swimming is, you can make good friends while swimming.
Suggested Topics:
You may also like
BEST HOME REMEDIES TO PREVENT ACNE
7 MISTAKES TO AVOID WHILE BRUSHING TEETH
HOW TO GO "GREEN" IN EVERY ASPECT OF LIFE
LIVE YOUR PREGNANCY A COOL DIVA STYLE
9 FOODS TO REDUCE WEIGHT NATURALLY & EASILY
Summary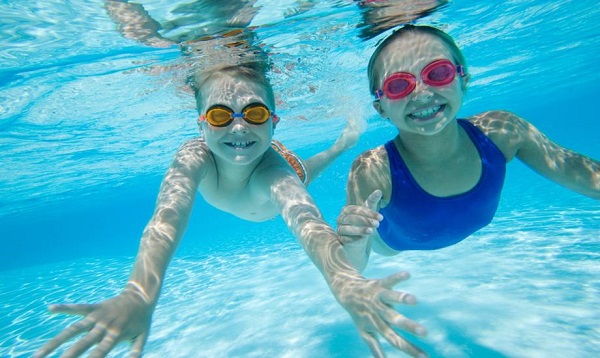 Service Type
Pingback:Reasons Why Women should Start Swimming | Lose Weight Quickly
Provider Name
Area
Description
Reasons Why Women should Start Swimming | Lose Weight Quickly