Hey My Lovely Peeps 🙂

People with sensitive skin always face problems while looking for a good scrub. Some products cause redness while some products cause rashes & irritation. Some even face problem of ingrown hair. Aroma Essentials recently launched Baby Scrub that is made of Saffron, Oats and Almond Oil. This product is specially developed for people with sensitive skin & people facing issues like dead skin, ingrown hair and intense tanned skin. Take a look at Review of Aroma Essentials Baby Scrub for Sensitive Skin.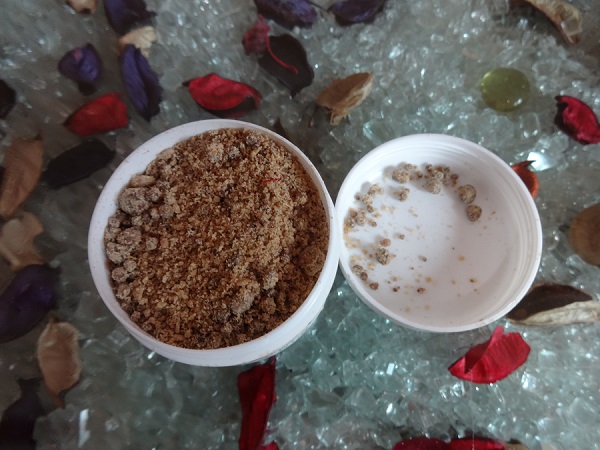 About Company:
Aroma Essentials was started by Mrs. Madhurima almost 12 years ago. Armed with a degree / diploma in Cosmetology and Aesthetics, she set out to make homemade cosmetics to treat her acne condition. Our products are a combination of Aromatherapy and Botanical extracts. Aroma Essentials offer a wide range of Skin Care to Hair Care, Soaps, Eye Care, Lip Care, Scrubs, Face Masks, Baby Care Products, Tan Removal, Make-up remover, Hydrating mist, Belly butter, Body Pomades, Massage candles and many more.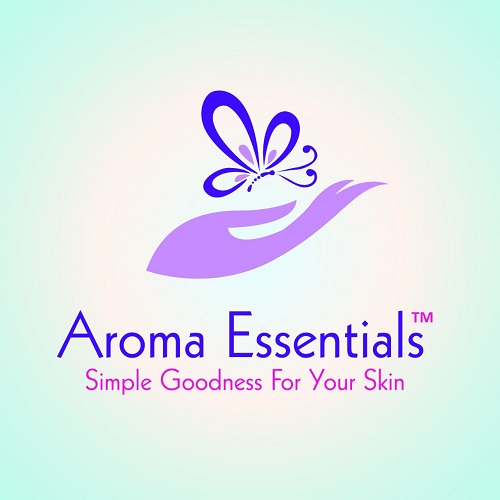 About Products:
Aroma Essentials Baby Scrub is specifically meant for people with very Sensitive Skin. As the name implies this is scrub is as mild as it can be used on a baby soft sensitive skin.
Ingredients: Saffron, Almond, Oats, Milk, Honey, Lentils and Rice and Almond Oil.
How to Use: Use it a normal scrub twice a week.
Price: Rs.250 (Shelf life 6 months)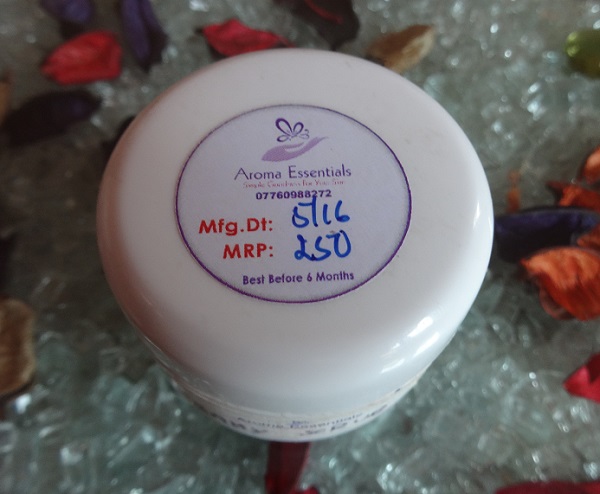 My Take on Aroma Essentials Baby Scrub
The scrub comes in a white plastic tub with cap. It is coarse powder in texture & is brownish in color. You can see saffron strands in the scrub.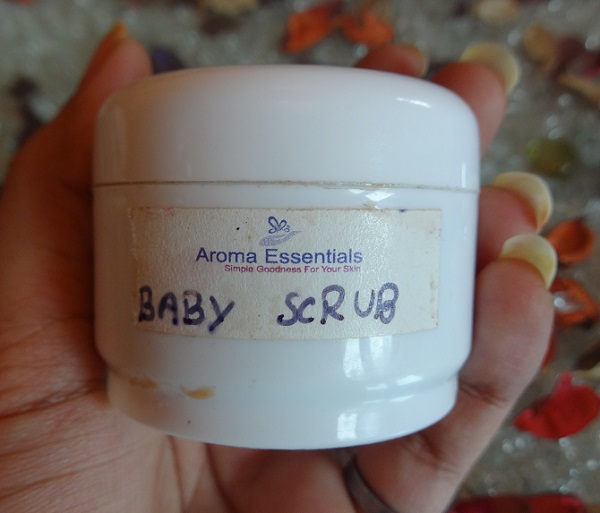 It is a savior for people like me who have sensitive skin. I am very scared of using any product on my skin as my skin immediately turns red & sometimes get rashes too.
Also Try AROMA ESSENTIALS CORRECTOR UNDER EYE GEL REVIEW
I did a patch test 1st & when there wasn't any rash or redness or irritation, I used it on my face. Bingo! The scrub justifies its names very well & is very mild.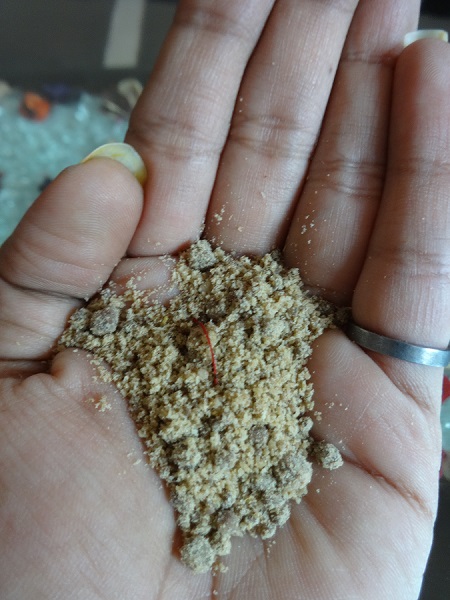 I don't have ingrown hair but as per company, this product works well on ingrown hair too with regular usage. Aroma Essentials Baby Scrub works really nice for tanned skin too. This mild scrub can be used on kids' gentle skin too. It is made of Saffron, Oats, Milk, Honey & Almond which are very good for skin. The best part is it is not having chemical or preservative which are harmful for skin.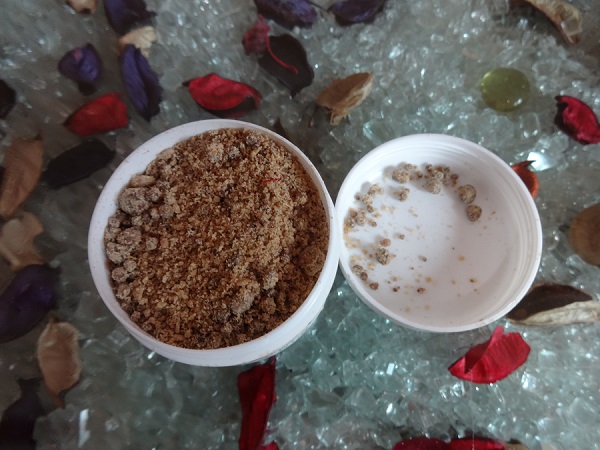 Pros of Aroma Essentials Baby Scrub:
*Very mild on Sensitive Skin
*Doesn't cause any Irritation, Redness and Rashes
*Made of Saffron, Almond, Oats, Honey, Lentils and Rice and Almond Oil
*Helps in removing Blackheads & Whiteheads
*Makes Skin Soft, Smooth & Clear
*Can be used on kids' skin
*Removes Tanning with regular usage
*100 % Vegetarian Product
*Chemicals and Preservatives Free
*Cruelty Free
*Have a nice fragrance
Cons of Aroma Essentials Baby Scrub:
*I haven't found any negative
Will I Recommend: Yes for all Sensitive Skin people out there, here is your savior. Moreover it is pretty affordable & bonus point it is totally Chemical Free Organic Scrub.
My Rating: I will give 4.5 out of 5 Stars.
Where to Buy:
You can buy Aroma Essentials Products from below:

Facebook page: Aroma Essentials
Instagram: @aromaessentials
Mobile No: +91-7760988272 ( Madhurima )
Also let me know how much you liked my Review of Aroma Essentials Baby Scrub For Sensitive Skin.
Suggested Topics:
You may also like
VEDIC COLLECTION EYE SERUM REVIEW
REVIEW OF BRIDAL UBTAN PACK FROM NUSKĀA
REVIEW OF GROOMING PRODUCTS FROM AROMA ESSENTIALS
REVIEW OF MEN GROOMING KIT FROM THE MAN COMPANY
LIVE YOUR PREGNANCY A COOL DIVA STYLE
9 FOODS TO REDUCE WEIGHT NATURALLY & EASILY