Hey My Lovely Peeps 🙂

A clean, clear and flawless skin is dream of all but only a few has God Gift of flawless smooth skin. For rest (like me & majority of us), it's a blend of hard work & dedication 😛 I am blessed with good skin but pollutions, stress, love for cosmetics & achar 😛 makes me fight with acnes, blackheads, dead skin, white heads, tanning and other skin problems from time to time. So I totally rely on my CTM Routine along with a good herbal skin care products and a routine of exfoliating my skin twice a week with good scrub. In my quest to Go Herbal, today I will be reviewing 2 Scrubs I came across recently. Enough of chit chat, let's get straight to Raw Rituals Scrubs Review.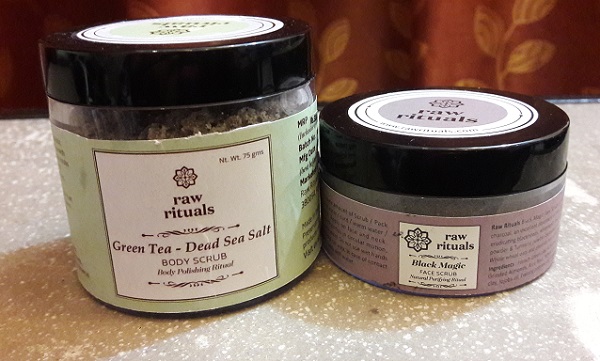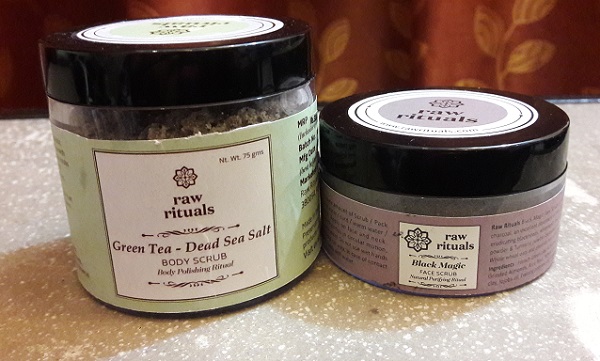 About Company
Raw Rituals offer Chemical Free Organic Self Care Products. Their products are hand made using ingredients from nature. They insist on following ways of natural healing for self-care. Hence their products do not comprise of any synthetic fragrances, preservatives, lathering agents, emulsifiers, or other chemical ingredients. All Raw Rituals Self-care products are Free of SLS, SLEs, Paraben, Preservatives, synthetic and chemical fragrances, Free of Alcohol & synthetic and artificial colors. Each of the Raw Rituals product is handcrafted in extremely small batches to ensure high levels of quality and consistency
Raw Rituals Scrubs
I tried these 2 raw Rituals Scrubs: Black Magic Face Scrub and Green Tea & Dead Sea Salt Body Scrub. Let us see what I liked & what I don't like about these chemical free scrubs from Raw Rituals.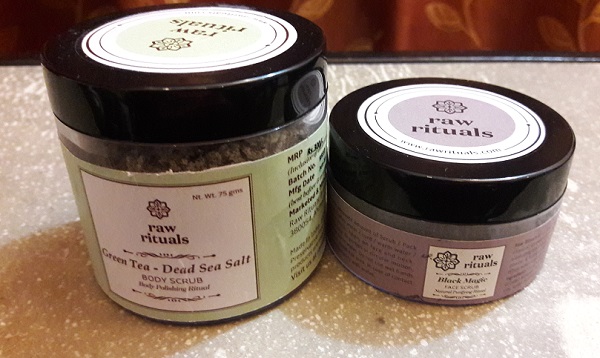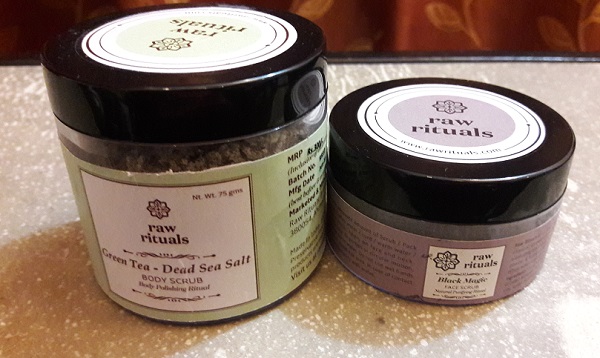 Black Magic Face Scrub (For All Skin Types)
Activated Charcoal is known to absorb 500 times its weight in impurities, making it an excellent natural ingredient to help purify and deep-clean skin. It helps in eradicating blackheads and acne and thus detoxifies skin naturally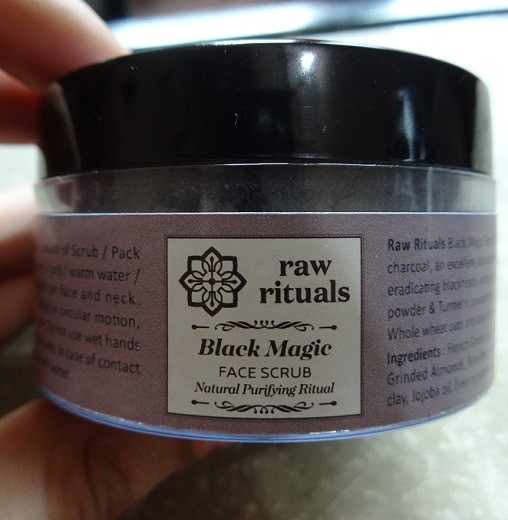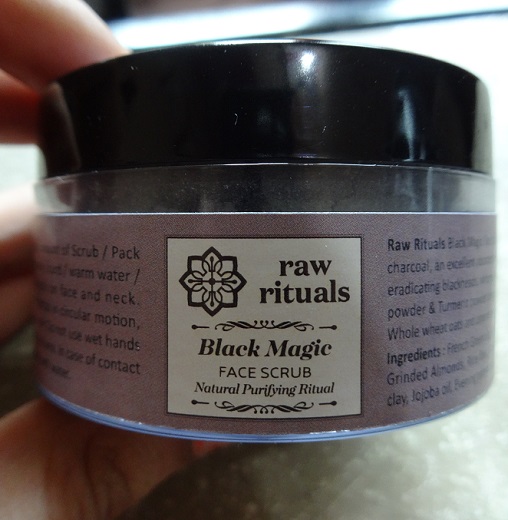 Ingredients: Contains french green clay, activated charcoal, ground whole wheat oats, ground almonds, rice flour, wheat grass powder, turmeric powder, zeolite clay, jojoba oil, evening primrose oil, essential oils of turmeric and peppermint. Patch test recommended before use.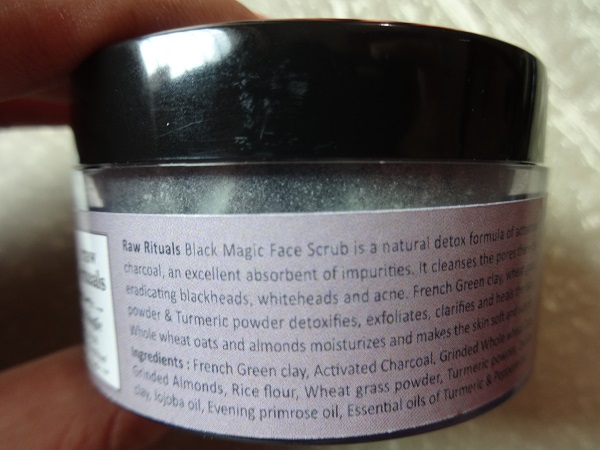 Price: Rs.250 for 35 gms (Shelf life 6 months)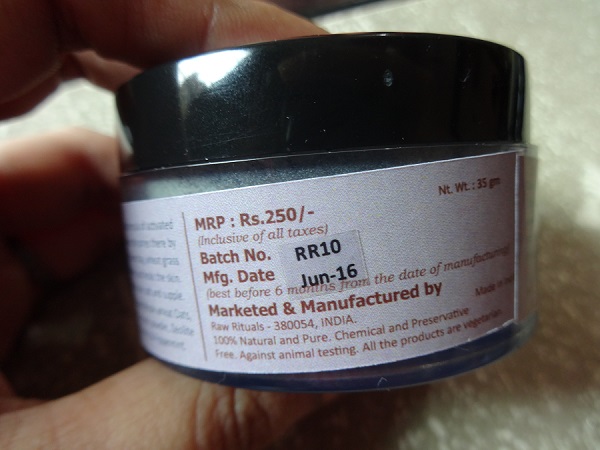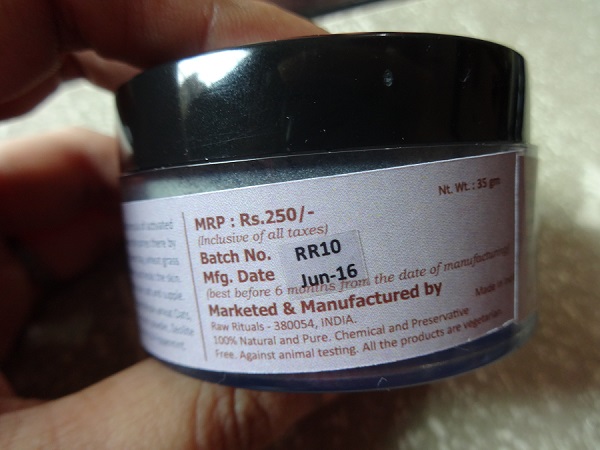 My Take on Black Magic Face Scrub:
On 1st look, I totally loved the packaging & color of scrub. This scrub is powder form with tiny grainy particles. The scrub is green in color with strong smell of essential oils. The scrub justifies its name "Black Magic" as you can see clear visible difference in skin post using it.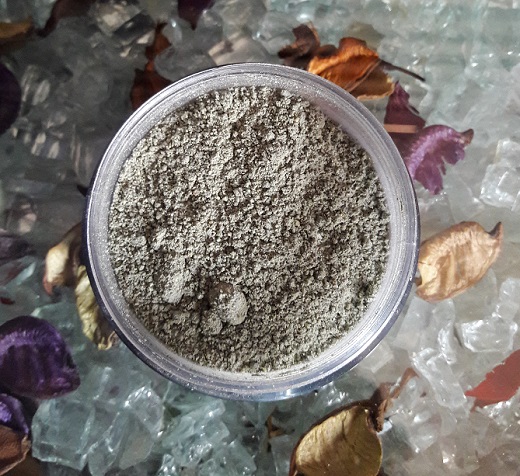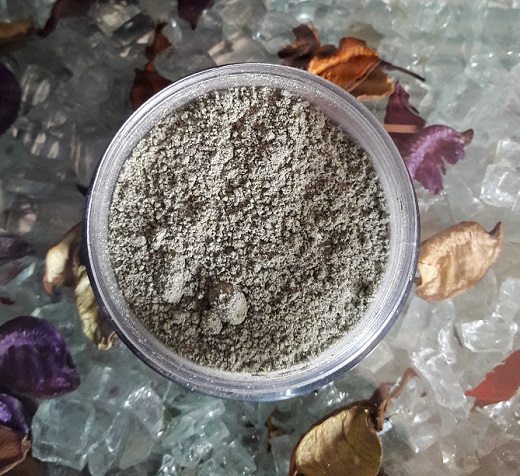 The best part of scrub: it can be used both as scrub and a face mask. It works excellently to remove impurities and dead skin cells when used as scrub. I use it once a week 1st as scrub and then leave on skin as mask.My skin feels so refreshing & clean after using this. Best part it doesn't dry out skin like majority of the scrubs available in the market. I can see good improvement in blackhead removal with its continuous usage.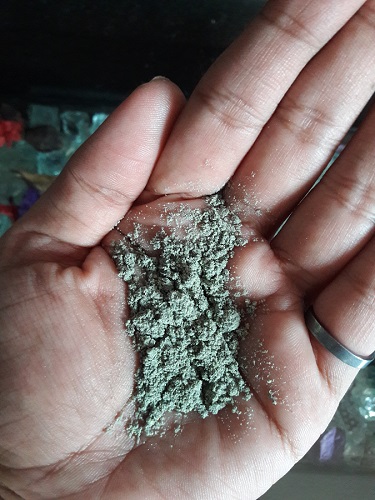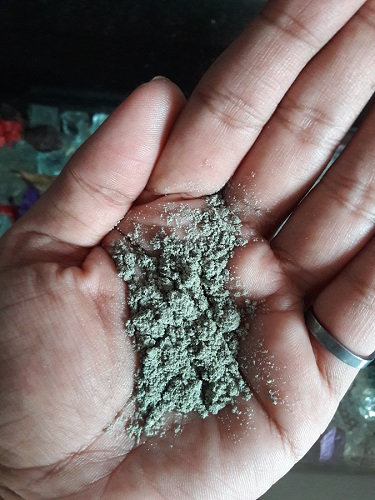 Will I Repurchase: Definitely as it has become an important part of my skincare routine now.
My Rating: I will give 4.5 out of 5 Stars to Black Magic Face Scrub.
Green Tea & Dead Sea Salt Body Scrub (For All Skin Types)
Green Tea & Dead Sea Salt Body Scrub is perfect for a daily ritualistic cleaning. The mild abrasive texture and healing properties of dry green tea leaves work towards reducing blemishes and scars and the exfoliating effects of Dead Sea Salt act scrub off the tan and dead skin cells, breathing a new life into your skin.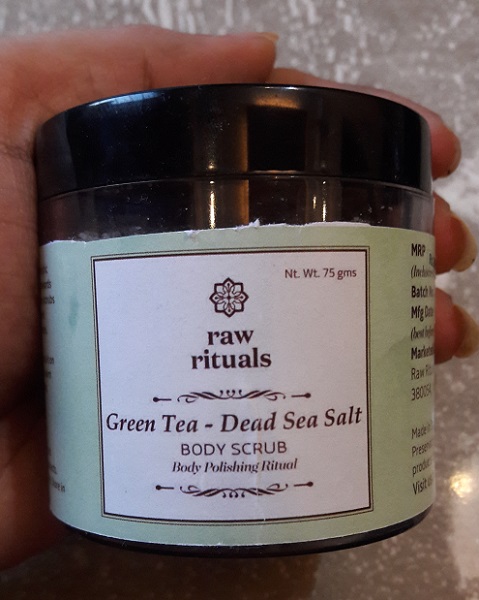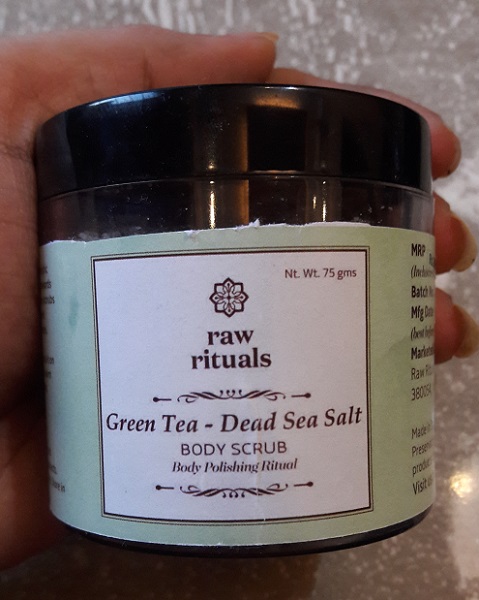 Ingredients: Green Tea leaves, Dead Sea salt, sugar mix, jojoba oil, almond oil, lemon grass essential oil, green tea infused oil, vitamin-E oil.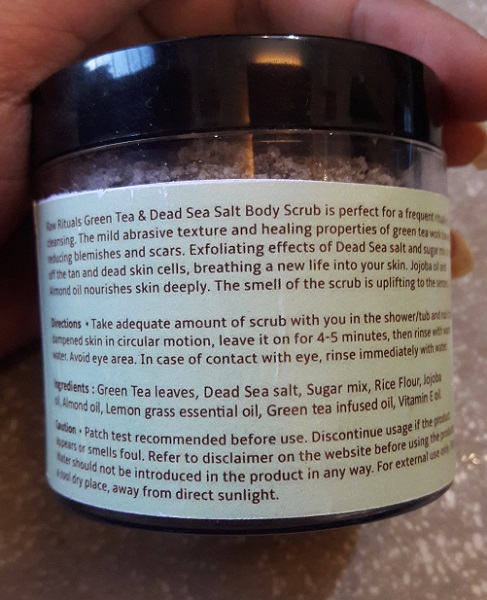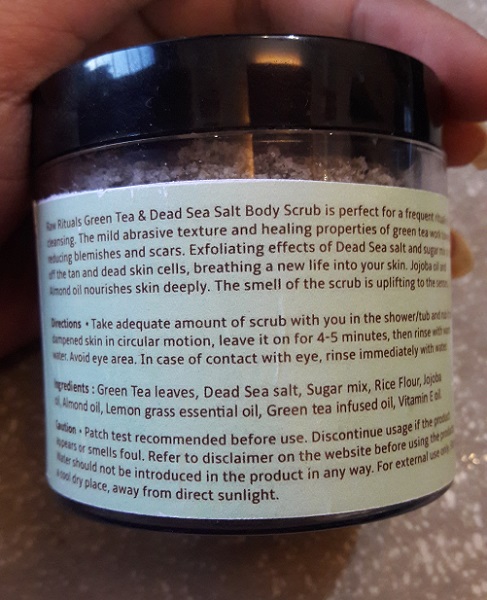 Price: Rs.300 for 75 gms (Shelf life 6 months)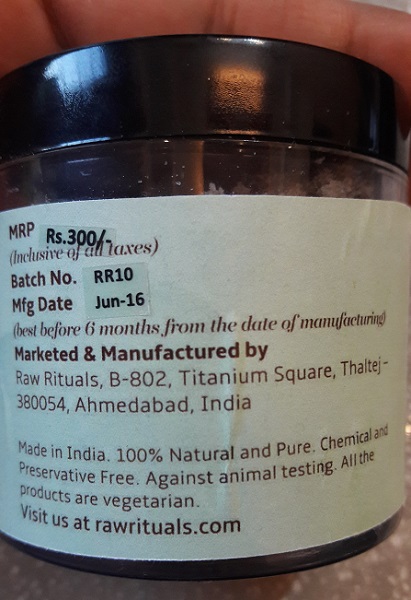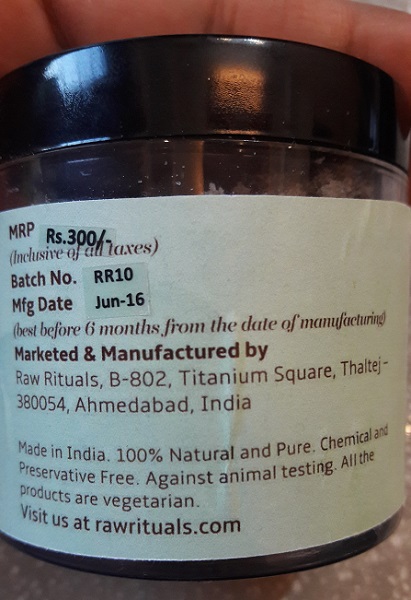 My Take on Green Tea & Dead Sea Salt Body Scrub:
The texture of this scrub is quite coarse, may be because it has sugar & salt particles in it. It's more of abrasive for me. As a body scrub, this one is a good choice. But I would rather refer this to boys especially as it will be a great choice for them. This scrub is a bit hard for me considering I have very sensitive skin.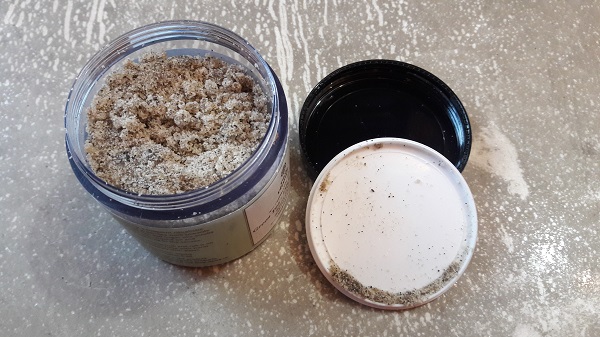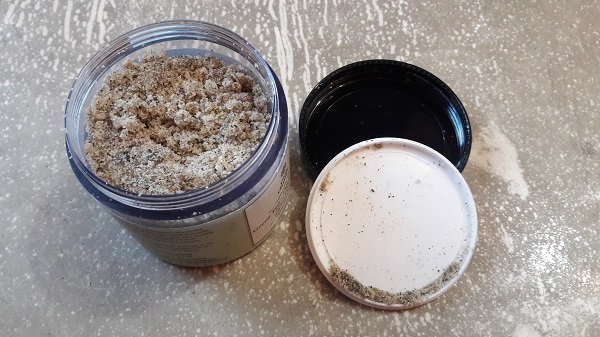 I gave this to my brother and he is quite happy with it. He is having stubborn tanning on his arms, neck and hands due to bike driving & he is using this body scrub twice a week along with Nuskaa Anti Tan Pack & we have seen visible results in tanning removal.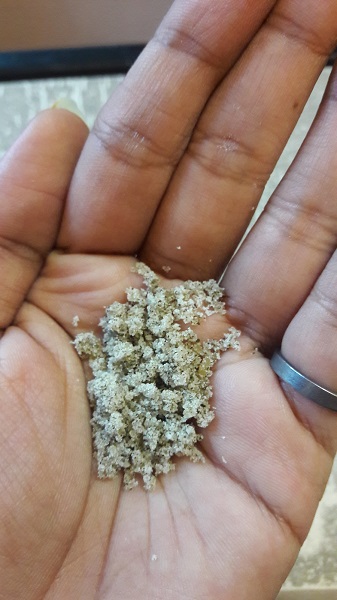 Will I Repurchase: Go for this body scrub especially if you want herbal answer to your skin blemishes and tanning especially a Must have for boys!
My Rating: I will give 4.5 out of 5 Stars to Raw Rituals Scrubs.
Will I Recommend:
Of course, Go grab your Raw Rituals Scrubs today as they are totally Chemical Free, Natural & hence safe for our body. You will be assured that you are applying only natural thing to your skin.
Where to Buy:
You can buy Raw Rituals Products at their official Website or at Amazon.
Raw Rituals FaceBook: Raw Rituals
Raw Rituals Instagram: Raw Rituals
Raw Rituals Contact Number: 8347006991
Let me know how much you liked Raw Rituals Scrub Review & which one is your favorite.
 Suggested Topics:

AROMA ESSENTIALS CORRECTOR UNDER EYE GEL REVIEW
10 INTERESTING FACTS ABOUT BRAD PITT
REVIEW OF BRIDAL UBTAN PACK FROM NUSKĀA
15 INTERESTING FACTS ABOUT EARTH
9 FOODS TO REDUCE WEIGHT NATURALLY & EASILY
REVIEW OF GROOMING PRODUCTS FROM AROMA ESSENTIALS
HOW TO DETOX YOUR BODY NATURALLY?
TIPS TO HOST CREATIVE TEAM BUILDING EVENT