Hey My Lovely Peeps 🙂

One thing that I am obsessed with in body is HAIR. I crave for Long, Voluminous and Beautiful Hair like Rapunzel 😛 I wish I was gifted with those Long Locks that I can throw out of window & one day my Prince Charming will come using them 😛 *ehm ehm* Ok, let's get back to real life!!! If not Rapunzel type hair, but I do wish I have Long, Voluminous and Beautiful like any other girl. So I keep looking for products especially Hair Oils & since these days I am turning more into Organic & Herbal Girl plus after successful results of Raw Rituals' Lip Balms I decided to give a shot to Raw Rituals' Hair Oil.  Here's Raw Rituals Hair Oil Review.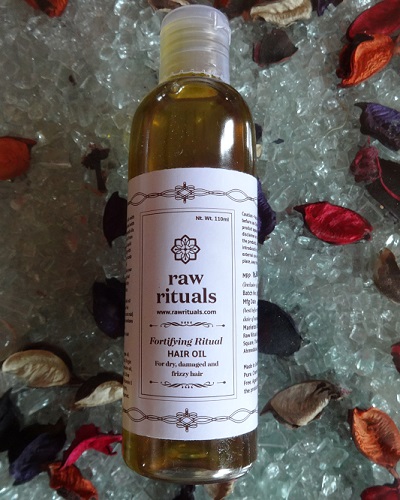 About Company
Raw Rituals offer Chemical Free Organic Self Care Products. Their products are hand made using ingredients from nature. They insist on following ways of natural healing for self-care. Hence their products do not comprise of any synthetic fragrances, preservatives, lathering agents, emulsifiers, or other chemical ingredients. All Raw Rituals Self-care products are Free of SLS, SLEs, Paraben, Preservatives, synthetic and chemical fragrances, Free of Alcohol & synthetic and artificial colors. Each of the Raw Rituals product is handcrafted in extremely small batches to ensure high levels of quality and consistency.
About Product
Nurture hair health from root to tip with Raw Rituals hair oil which is packed with the goodness of eleven cold pressed oils and six essential oils. This hair oil from will put life into dullest of hair. Liquid Moroccon gold "Argan oil" along with other precious oils will feed your scalp with essential nutrients and will promote hair growth. It will make your tresses shinier, healthier, strong and lustrous. Will help sooth dry & itchy scalp. Reduces split ends and frizz.
Ingredients: Argon Oil , Apricot Kernel Oil , Hempseed Oil , Virgin Coconut Oil , Castor Seed Oil , Avocado Oil , Sweet Almond Oil , Sunflower Oil , Olive Oil , Evening Primrose Oil , Vitamin E Oil , Essential Oils – Rosemary Oil , Myrrh , Neem , Geranium , Brahmi & Bergamot.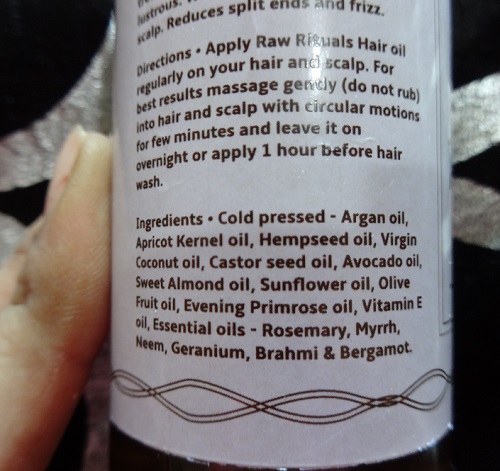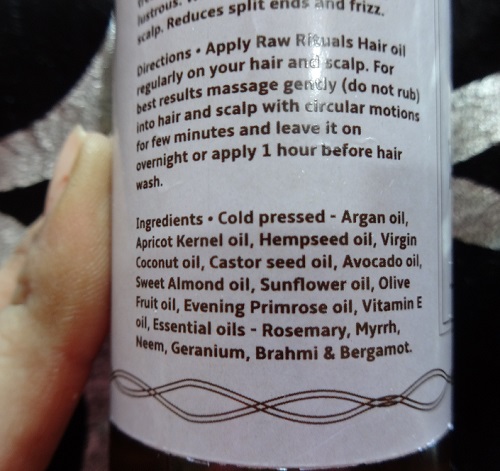 Directions to Use: Take oil in your palms and using your fingers in the circular motion and leave overnight. Apply it on the scalp and hair.
Price: Rs.600 for 110ml (Shelf life 6 months)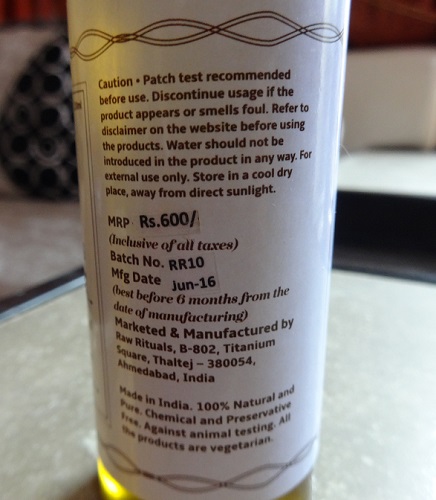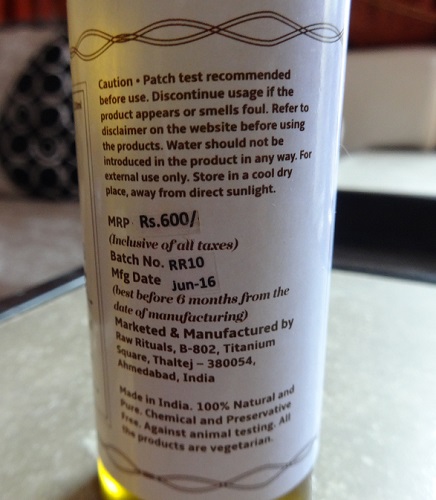 My Take on Raw Rituals Hair Oil
Raw Rituals Hair Oil is for Dry, Damaged and Frizzy Hair. It's a mix of many natural oils especially Argan Oil, Hempseed Oil , Coconut Oil, Castor Seed Oil, Avocado Oil , Sweet Almond Oil, Olive Oil, Vitamin E Oil  and numerous Essential.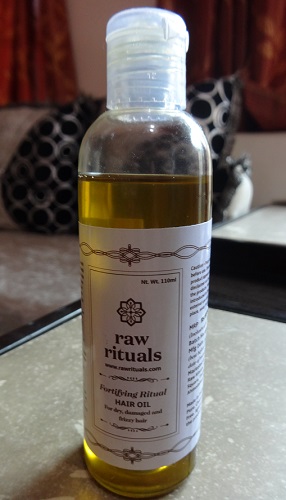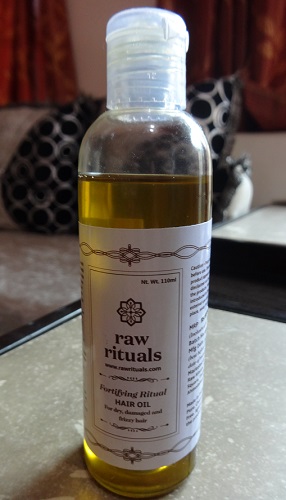 Raw Rituals Hair Oil comes in a sturdy plastic bottle which is transparent. The oil bottle is having a flip off cap which makes it easy to take the required oil without wasting it. The oil is pale mustard in color. When I opened the bottle, there was a very subtle and nice fragrance of the oil, a typical essential oil fragrance. The oil is neither too thick nor too thin in consistency.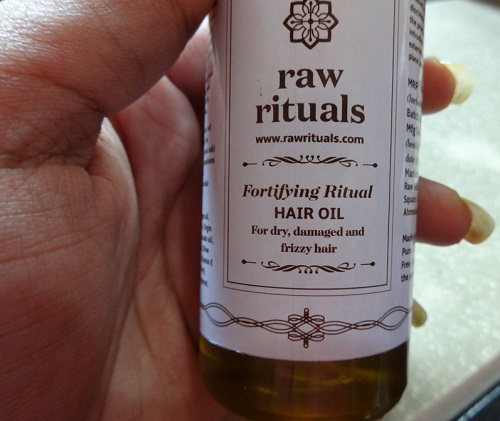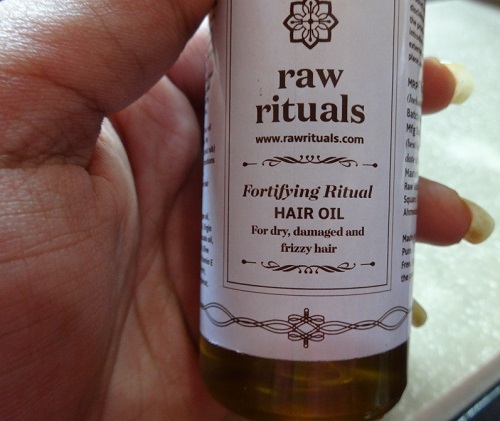 I applied it overnight prior to hair wash and then washed next morning with my usual hair wash routine: shampoo, conditioner and serum. I don't have frizzy and rough hair but yes, there was a certain difference in my hair in terms of smoothness after wash. The hair felt so smooth, silky and soft. Also the bonus point was less tangles, my hair were way less tangled than early due to hair oil.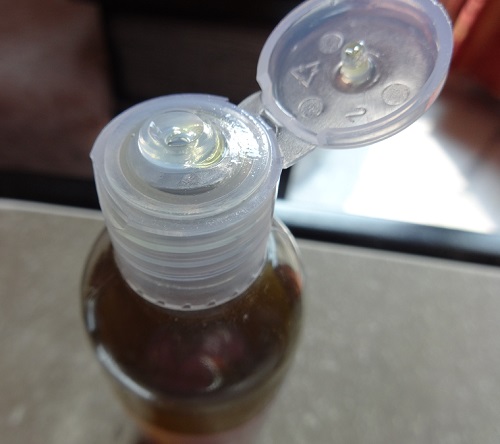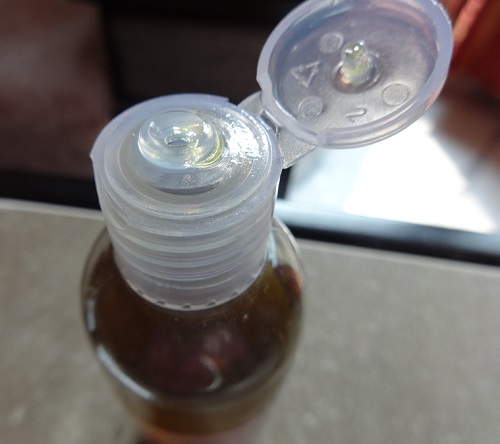 I have been using this hair oil since last 15 days & with every wash my hair is getting soft & silky smooth. Even my mom is using this hair oil and she is having curly frizzy hair which is nicely tamed & soft now due to this oil's regular usage prior to hair wash.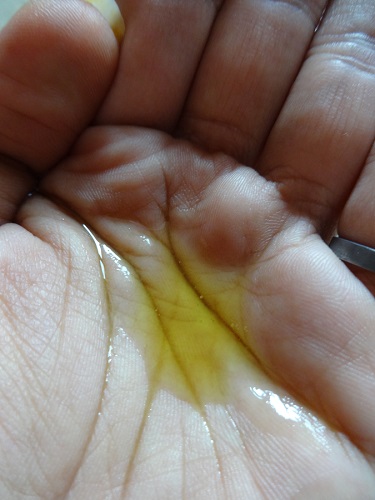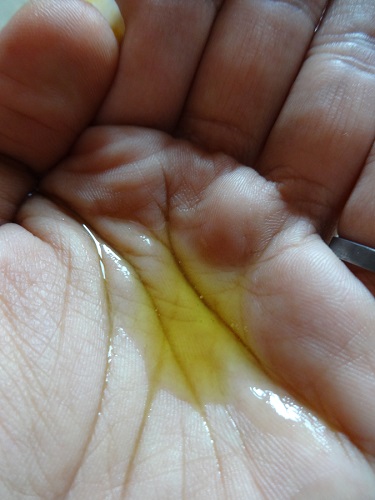 Overall Raw Rituals Hair Oil is becoming my all-time favorite & it has become an essential part of my hair care routine like RAW RITUALS UNDER EYE CREAM  has become essential part of my eye care routine. I will highly recommend Raw Rituals Hair Oil to everyone as it actually does what it claims; gives nourishment to hair & scalp, making hair soft, silky and smooth & taming frizzy hair.
Pros of Raw Rituals Hair Oil:
*Nurtures hair from root to tip
*Reduces split ends and frizz
*Made with a combination of 11 cold pressed oils that provides essential nutrients to hair
*Makes the hair more manageable
*Makes hair shinier, healthier, strong and lustrous
*Soothes dry and itchy scalp
*Restores hair health
*100 % Vegetarian Product
*Chemicals and Preservatives Free
*Cruelty Free
*Have a heavenly fragrance
Cons of Raw Rituals Hair Oil:
*I haven't found any negative
Will I Recommend It:
Yes, Yes & a BIG YES! It has combination of 11 cold pressed oils that provides essential nutrients to hair making hair soft, manageable and of course healthy. It also helps in reducing frizziness and split ends.
Rating: 5/5
Go grab your Raw Rituals Hair Oil today. Buy it here
You can buy Raw Rituals Products at their official Website or at Amazon.
Raw Rituals FaceBook: Raw Rituals
Raw Rituals Instagram: Raw Rituals
Raw Rituals Contact Number: 8347006991

Let me know how much you liked Raw Rituals Hair Oil & have you tried it yet?
 Suggested Topics:

AROMA ESSENTIALS CORRECTOR UNDER EYE GEL REVIEW
10 INTERESTING FACTS ABOUT BRAD PITT
REVIEW OF BRIDAL UBTAN PACK FROM NUSKĀA
15 INTERESTING FACTS ABOUT EARTH
9 FOODS TO REDUCE WEIGHT NATURALLY & EASILY
REVIEW OF GROOMING PRODUCTS FROM AROMA ESSENTIALS
HOW TO DETOX YOUR BODY NATURALLY?
TIPS TO HOST CREATIVE TEAM BUILDING EVENT