Being responsible for turning the face of Indian fashion industry with unconventional &unique design patterns, blending modernity with a sense of exceptionality and defining the new style of modern Indian Youth is every fashion designer's wildest dream. But she has been fearless to experiment with her designs with a vision to re-define the shape of Indian fashion industry with her quirky designs, appealing to classes as well as masses.
Meet the young and extremely talented Indian Fashion designer Mehendee Karan Singh, Founder & CEO Coal Fashion in a candid interview with me talking about her vision for Coal, success story and upcoming projects.
Sneha: Hi Mehendee, thanks for taking up the time to speak to me.
Mehendee: It is brilliant to talk to you as well Sneha.
Sneha: What was the turning point in your life that made you decide to be a designer
Mehendee: I think I was always a designer even as a kid or let's say very creative as a kid. I loved designing my clothes, I loved designing my room, my house, and I also loved food plating at dinner for my family. I visualized a lot of beautiful things in my head, I still love doing that. From making unique toys to play with, to making bouquets from my garden for my parents and to making my own bags and footwear and being able to sell a few when at college, it always filled my heart with joy to create something new, small or big.  I took this part of me seriously after my post graduation in footwear design and leather technology from FDDI, Delhi.
To live my dreams, I decided to work for sometime and understand various industries involved in handbag and footwear making. I started my career with TATA International with their Leather Division, I was also given a store to handle as an intern which did very well during my tenure and I was motivated to do more in life. I soon joined Hidesign, Pondicherry for more experience. I thoroughly enjoyed my tenure there; I was involved in taking important design decisions, meeting international buyers and even educating design students during their field trips.
I then moved a little more, since then worked in hardware factories, ad agencies and with also retail companies in Dubai. Dubai is not a manufacturing market for handbags and footwear so my job changed to sourcing from across various markets in the world. Living and working in Dubai was an experience of its kind and learning like they never stops, more kept adding in the process and I realized after a few years of working that I am ready to start on my own. I first started as making designs for private labels in Dubai and in 2019 decided to launch my own brand COAL.
Sneha: Tell me more about your "Coal" collection?
Mehendee: Coal collection is inspired by nature, the serenity in the breeze, the swinging of the palm trees around me just turned into patterns of my bags. I call it the 'Serenity Collection' for the same reason. This is our first collection and it wasn't easy to get it right, I wanted to make 3D triangles, cubes, hexagons and what not. Not having your own sampling team can be a challenging affair to get the design right.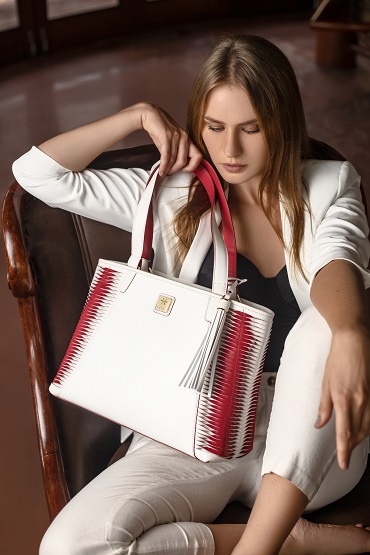 I am based out of Mumbai and have partnered with my colleague who runs his own factory in Kolkata, it did create a challenge of communication with sample masters but we wanted to make this work so we did whatever best we could. I was not able to stay in Kolkata for complete sampling process because I did not want my kids to be alone for too long. But surely, we are working on it, we want to set up our own design studio to avoid challenges and be able to make offbeat designs.
Sneha: How did you decide to start your own label without having any entrepreneurship knowledge?
Mehendee: No knowledge is enough, life is a process of making choices and I made mine wisely. I think I had enough knowledge and experience to start my own brandJ I planned my career; I took experience from different industries to be able to do this. According to me, to be an entrepreneur, one requires passion, hard work and risk taking ability, if you have these, you can be an entrepreneur too. Also, one learns a lot during the process, you can never be sure what challenge you will be faced with. Sometimes things work and sometimes they don't.

Sneha: What makes "Coal" different from other brands?
Mehendee: Coal is a one of the first international handbag brand which is making its online presence felt outside India too. Till now we have customers from U.S, Canada, Dubai and we sell through aggregators in India. What makes COAL stand out is its unique designs and quality. We source leather from the best tannery in Italy which also supplies to Prada and other international brands. Fittings and other backing materials are sourced from best markets of the world, primarily from Hong Kong so that we can keep the weight of the bag light.
Workers are trained to develop new skills to make our designs. Each piece is hand cut and handcrafted to perfection. We look forward to training them further especially for Coal and give them a safe and friendly environment to work in. Not many brands  look into details of constructions, since we are a luxury brands, we don't use joints in the front and back panel of the bag which consumes more leather.
Also, since we have made dual colour bags, we use 4x times more leather than a simple bag which also makes us a costly brand. We as a brand follow a no returns policy because we take our QC very seriously and, even a single small issue, be it a broken stitch or an improper stitch lock, the bag is rejected. Till now we have not had a single return. The most interesting thing about or brand is that every collection is a limited edition. We don't repeat our collections. Maintaining uniqueness of design and high standards of quality give is a cutting edge. We have great plans, we want to surprise the world with innovative products and be a game changer in the luxury handbag segment.
Sneha: How do you select the materials you use?
Mehendee: Depending on the design requirements, we take a call on the materials to be used and sourced.  A lot of materials go into making a handbag right from the raw materials, fittings to lining, backing materials to edge coloring inks, finishing polishes to handles, the list can go on. Creating the right supply chain is very important for any brand, it can be challenging for new brands due to smaller quantity constrains but it is not impossible. The vision has always been to be a brand of international repute. To have an ambition to compete with international brands, we knew we have to meet the international standards of quality. We hence decided to source best materials from best markets in the world.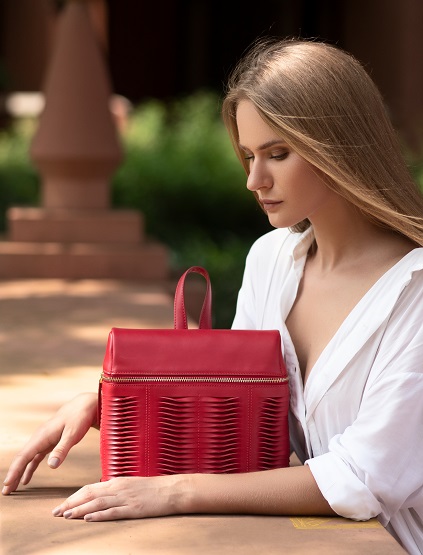 Sneha: How would you benchmark Indian fashion industry globally?
Mehendee: In overall positioning, India holds 2nd position with total 5% of global share in export of textile and apparel. The exports of textile and apparel from India have grown to USD 39 billion in 2018-19 which is further estimated to expand at a CAGR of 10% and expected to surpass USD 70 billion by 2025-26. When you talk about Handbag segment, I don't think even one brand in this category has done well internationally. Here, I see us having a cutting edge and being one of the first handbags brand from India to make it big internationally. It will definitely not be easy and can take some time but we are actually in the process of creating history
Sneha: What is your favourite part about being a fashion designer?
Mehendee: Being able to create something offbeat right form sketching till the final product, is a very fulfilling process. To name one part of the process, I would say, I love visualizing; it's like giving birth to a design.
Sneha: How do you keep work life balance in your life?
Mehendee: One has work on time management when doing multiple things. Eating right, giving one hour in a day to reflect and relax mentally through any form of physical activity or just plain meditation helps you going good. There are days when no work life balance can be maintained too but that's a part of the journey so no complains
Sneha: How supportive is your husband and your family in your career?
Mehendee: Very supportive, my husband has been very motivating and participative in decisions I make. My kids love to understand what I do and have their own suggestions to make.
Sneha: Who are your favourite designers?
Mehendee: Amongst Indian designers I like what a couple of Bollywood designers do, to name a few, my like Sabyasachi, Manish Malhotra, Neeta Lulla, Ritukumar, I also like some new designers on the blog, some Indian designers outside India like Naeem khan and Bibhu Mohopatra, are also doing some interesting work.
Sneha: Which is your favorite holiday destination?
Mehendee: I have many favourite ones in India, the quick get ways from Mumbai's city life are Lonavala, Alibagh for now. Rajasthan is unique and beautiful too, the old havelis turned into resorts are good fun. Auroville in Pondicherrry is one place I love to go back to. Growing up in Bangalore, my favourite places for a holiday would be Ooty, coorg, Mandya in Mangalore. Dubai is my all time favourite international holiday destination.
Sneha: Who is your favourite role model?
Mehendee: I don't have a role model but I have been inspired by many stories of different people within and outside my family. Changing 11 schools and multiple cities gave me an exposure to meet many interesting and inspiring people, I can't name any one person in particular who can be a role model or maybe I don't want a role model, I have my own journey and I want use my own mind for every choice or decisions I make, right or wrong, I take onus of all of them without being influenced heavily by anyone.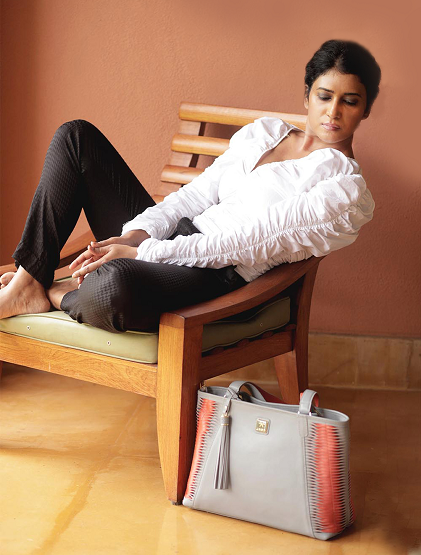 Sneha: What is your favorite pass time?
Mehendee: Spending time with my family, watching interesting documentaries, reading books and cooking.
Sneha: Tell me something about yourself that people don't know?
Mehendee: That I am an excellent dog trainer and that I love to sketch in my free time, I love to run, I love to teach and spend time with kids, especially teenagers.
Sneha: Where did you grow up? As a child, did you have any hobby?
Mehendee: I grew up across multiple cities within India. I have changed 11 schools, 2 in a year sometimes to add to that number.  Most part of my early childhood was spent in Bangalore. I had many hobbies, from playing cricket and football with boys because not many girls liked the sport then. I also loved to do craft work with my mum as a kid. We made toys by reusing materials available at home.
Sneha: What advice will you give to young girls and boys who want to pursue their career in Fashion Designing?
Mehendee: Go for it! Sustainable fashion is the way forward in the fashion industry.
That was a candid interview with famous Indian Fashion designer Mehendee Karan Singh, Founder & CEO Coal. You can check her quirky products at www.coalfashion.com and Nykaa.